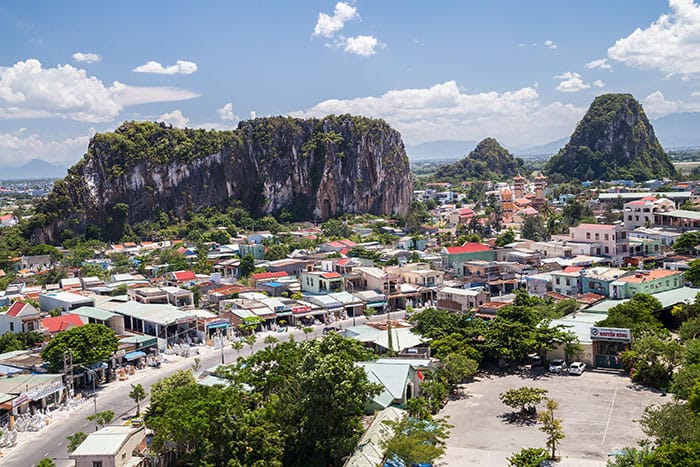 Known for its gorgeous beaches, incredible geography, and relaxing atmosphere, Da Nang has gone from quiet oceanside town to tourist destination. It's unique blend of architecture and culture tells the story of the city's rich history. From French influences to old Vietnam War military bases to ancient relics, there are few places in the world with such unique and stunning views.
From beaches to mountains and cityscapes, there's a lot to experience. And fortunately, your travel budget goes far. One you have a Vietnam Visa, start planning how you'll spend your time in Da Nang.
Where to go in Da Nang
While it used to be a small town with only two bridges, Da Nang is now growing in popularity
A city both modern and rich in history, Ho Chi Minh City provides tourists with ample destinations. The city itself is divided into different districts, making it somewhat easier to plan which area of the city you'll be in on a given day.
Da Nang City Centre: See serene beaches and stunning river views.
Minh An: Explore an ancient town and river scenery.
Ngũ Hành Sơn: Home to the Marble Mountains, you'll see some of the world's most beautiful landscapes.
Hai Chau: With gorgeous river views, the Danang Cathedral, and museum of Cham Sculpture, this place is rich in history.
Da Nang City Hotels
The lodging in Da Nang provides a range of unique and memorable spots to stay. From beachside hotels to truly one-of-a-kind hostels, there's a little something for every budget.
Hostel: The unique Nang Capsul Hostel is the first capsule hostel in the city. Each capsule provides privacy, storage, USB chargers and even a background light for just $11 per night.
Mid-range: It's hard to consider the Monarque Hotel mid-range when it features such luxurious amenities. Starting at $35 per night, you can stay at this neo-classically designed hotel.
High End: The 5-star Sheraton Grand Danang Resort gives travelers a luxury beachside experience and an incredible view. Stay here and enjoy luxury for just $95 per night.
What to Eat in Da Nang
The food in Da Nang reflects the area's multicultural history. The fusion of European and Asian foods and flavors means tourists can enjoy a range of delicious yet inexpensive food. Here are some of our recommendations:
Fried Spring Rolls – Elevating the traditional spring roll, Da Nang's take comes fried. It also includes a special dipping sauce to give it a truly memorable flavor. $1.
Fried Fish Vermicelli – As an oceanside city, it's only natural Da Nang would offer delectable fish dishes. Locally-caught fresh fish topping supple vermicelli noodles make for an enjoyable meal. $2.
Snail Salad – This might be too much for some, but if you're eager to try something new, the Snail Salad is a Da Nang speciality. The firm, fresh snail is infused with lemongrass, limes, and other seasonings to give it a full, delicious flavor. $2–$5.
Things to do in Da Nang
Visit the Marble Mountains: These feature some of the most beautiful statues and caves to explore. The structures are incredible as well. And the view from the highest peak? Unmatched. $39.
Travel to Hoi An: While many cities in vietnam have been modernized, Hoi An – just a short travel from Da Nang – still looks as it did at the end of the 18th century. It's been declared a World Heritage Site. $38.
Explore the My Son Sanctuary: An ancient, once-sacred Hindu sanctuary, this location features centuries old architecture dating back to the 4th century. $38.
Cross the Dragon Bridge: This unique structure looks like a mythological dragon encircling the bridge. The statue even breathes fire and spits water! Free.
Breaking Down $100 in Da Nang
Hotel – 3 nights at the Nang Capsul Hotel = $33
Food – Tasty and memorable meals and snacks for 3 days = $29
Entertainment – Visit the Marble Mountains = $38
Want to visit Da Nang? Apply for your Vietnam Visa today and start planning your visit.