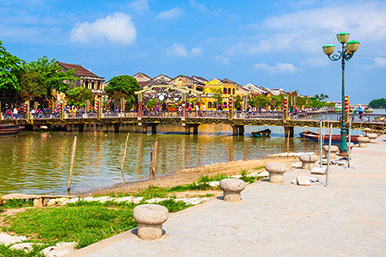 Located on Vietnam's north-central coast, Dong Hoi has both sandy beaches and lush mountains. But it's also a great place to visit as a tourist as it's not quite as busy as Hanoi or Ho Chi Minh City. Expect a quieter, more relaxing stay compared to other big tourist destinations in Vietnam – and one where your travel budget can go far.
Because Dong Hoi hasn't been "discovered" by many tourists yet, it's an affordable, fun place to make a visit. Here's what you can do, where you can stay, and what you can experience with just $100 in Dong Hoi – just don't forget your Vietnam Visa!
Where to go in Dong Hoi
Dong Hoi's natural scenery provides a wonderful counterpart to Vietnam's major cities. Here are some of the places to check out when you're there:
Tien Son Cave: This stunning underground labyrinth features incredible geologic wonders. The hike up mountain stairs to the cave entrance is a journey on its own. But even that vista is nothing compared to the truly incredible views underground.
Bai Da Nhay: also known as Jumping Rock beach, this beach has impressive rock formations that stand high in the air. They're the result of thousands of years of erosion and truly a wonder to behold.
Quang Phu Sand Dunes: While Vietnam is known for its lush jungles, these sand dunes show how truly diverse the country's beauty is. White sand shimmers in the sun, stretching for miles.
Dong Hoi Hotels
With plenty of quaint, comfortable travel options, Dong Hoi is an ideal destination for backpackers. Your biggest expense in Dong Hoi will likely be your hotel. Whether you want to stay near the city center or out a little ways, there are pretty good deals for any budget.
Hostel: An affordable but cozy place to stay, Bamboo's House is a hostel where Mr. Bamboo himself is host. His local expertise makes him a great resource as you're planning your stay in Dong Hoi. Only $5 per night.
Mid-range: Why Not Hotel is located near the Nhat Le River and Bao Ninh beaches, making it a great place for backpackers to crash. It's fun style and design makes for a memorable stay. And it's affordable rates make it a superb pick for travelers. $11 per night.
High End: Located right on the seashore, Mường Thanh Holiday Quang Binh offers a 4-star stay that's highly rated by both foreign and domestic travelers. $23 per night.i
What to Eat in Dong Ho
Dong Hoi is a backpacker's delight, offering healthy, locally sourced foods that truly showcase unique flavors.
Water Fern Cakes – A tasty snack, this central Vietnam specialty combines a cake made of rice flour and start with minced shrimp. The magic is in the sauce, which is specially prepared by extracting broth from shrimp flavors. It's about $0.75 each.
Oyster Soup – Trying the oyster soup is a must in Dong Hoi. Why? Because the oysters used to make the soup are sourced from the local river – where the environment makes the oysters more nutritious and flavorful. Only $2 a bowl.
Things to do in Dong Hoi
Explore the Tien Son Cave: Wander through an unbelievable underground space that'll ake you feel like you're in a movie.
Tour the countryside: The interesting rock formations around Dong Hoi make for great day trip.
Enjoy the healthy, natural cuisine: The meals in Dong Hoi are full of fresh, tasty ingredients that are also inexpensive.
Relax on the Nhat Le Beach: This beautiful beach has a lot of vendors, restaurants, and eateries to enjoy while you bask in the sun.
Breaking Down $100 in Dong Hoi
Hotel – 3 nights at Bamboo's House: $15
Food – Delicious local meals for 3 days = $22
Entertainment – Tien Son Cave = $58
Shopping – Souvenirs and goodies = $5
Interested? Then apply for your Vietnam Visa today and start planning your visit.