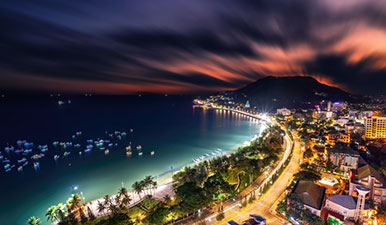 Another seaside city, Vung Tau is an underrated gem for travelers. With comfortable, safe places to stay, along with tasty eats and gorgeous views, there's plenty to keep you busy. And like many destinations in Vietnam, your money goes a long way. Here are ideas for what you can do with just $100 in Vung Tau after you've received your Vietnam Visa before you book your trip!
Where to go in Vung Tau
Because it's just a few hours away from Ho Chi Minh City, Vung Tau is a great getaway from the hustle and bustle. It's full of beautiful resorts and ways to have fun.
Ho May Park: After a long cable car ride with a great view, you'll arrive at one of Vietnam's theme parks. With golf cart rides, traditional music shows, and more ways to fill a day, it's a great place for families. $23 for the cable car ride, but once you're at the top the rides are free.
Vung Tau Beach: There are two main beaches in Vung Tau city, Back Beach and Front Beach. Back Beach is the primary hub of entertainment, restaurants, and crowds. Front Beach is a bit less crowded and relaxed.
The Robert Taylor Museum of Worldwide Arms: This collection of military uniforms, memorabilia, and other artifacts presents centuries of global military things to see. This is an especially great activity for hot days because the buildings are all air conditioned to maintain the integrity of the uniforms. $5 to enter.
Upside down House: If you're looking to get some fun, cute photos, check out this tourist attraction. Just don't plan on spending more than an hour here. $3.
Vung Tau Hotels
Like most Vietnamese cities, there are options for every budget when it comes to lodging.
Hostel: Tomorrow Hostel is in the perfect location near the center of town (but still close to the sea). $6.26 per night.
Mid-range: A great option for tourists, the Secret Garden Coffee and Homestay hotel is right in the heart of Vung Tau expat territory. It's got standard rooms for just $20 per night.
High End: For a fun ocean-inspired room, check out the Ibis Styles Vung Tau hotel. It's got a playful and stylish vibe, plus a rooftop pool and bar. $51 per night.
What to Eat in Vung Tau
As with many cities on the sea, expect a lot of seafood and locally-sourced ingredients.
Banh Khot: This Vietnamese mini pancake is made from rice flour, coconut milk, chopped spring onion, and a protein – usually shrimp or squid. These are less than $1, making them a great snack.
Stingray Hotpot: This is one of the most famous dishes from Vung Tau. It's said the best stingray fishing in the world comes from off the Vung Tau coast between February and April. Because stingrays have no bones, the resulting dish is tender and delicious. Just throw the ingredients like stingray fillets, rice vermicelli and some herbs in for flavor. It's reasonably priced at $10 per meal.
Things to do in Vung Tau
Relax on the Back Beach. Enjoy gorgeous sand and sunshine, then head to a restaurant or bar.
Hike to the Christ of Vung Tau: On top of a mountain is a large Christ statue. The hike alone is worth the journey.
Visit Woman's Island: It's said that in the 18th century, a woman built a temple to the Sea Goddess on that island.
Take photos at the Upside Down House: Get some Instagram-worthy snaps.
Breaking Down $100 in Vung Tau
Hotel – 3 nights at the Tomorrow Hostel = $19
Food – Delicious restaurants, snacks, and street food for 3 days = $45
Entertainment – Go to Ho May Park = $23
Shopping – Souvenirs and goodies = $13
If this sounds like a great time, then apply for your Vietnam Visa today and start planning your visit.