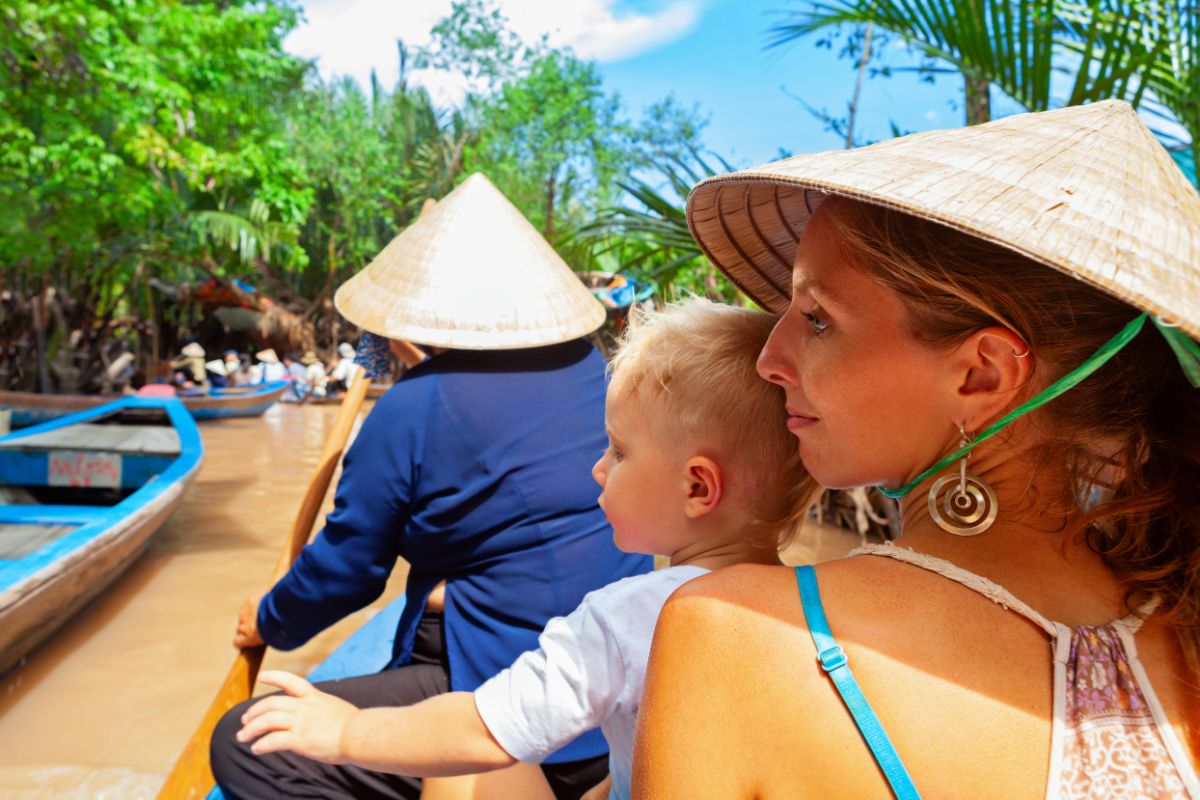 If you are looking for a great family travel destination, take your next family vacation in Vietnam for a magical experience. Visiting Vietnam with kids can be fun, safe, and exciting. Vietnam offers something for all ages, with a rich culture, pristine beaches, modern adventure parks, and fabulous cuisine. This Vietnam travel guide will get you started on all the amazing places you can visit in Vietnam with your family.
You will need to plan ahead to make the most of your family tour of Vietnam. To help, we have compiled our list of go-to places for family travel in Vietnam below.
Want an Easy Way to See Vietnam? Try Vietnam Family Tours
If this is your first time taking your kids to Vietnam, you may be concerned about how to handle things like language differences, Vietnamese toilet facilities, and scheduling all the best Vietnam sights. A packaged family travel vacation to Vietnam may be a good place to start.
These all-in-one packages include hotels, travel, and guided tours to the best Vietnam tourist spots. Different packages are available, some of which focus on certain areas such as South Vietnam and others focusing on cultural enrichment. You can even find Vietnam family tours geared towards teenagers!
Many international travel websites will offer these travel packages, along with prices and user ratings. You will want to take your time in reviewing these options before selecting one. This will ensure you are able to get the best deal with a top company. Additionally, before you choose, you'll want to review our list below of exciting Vietnamese locations to visit with your family. However, don't feel you need to join an organized travel group to go to Vietnam with kids. With some upfront planning, you can create an amazing Vietnam family vacation on your own.
The Best Places to Visit Vietnam with Kids
Vietnam has many great places for families to visit, in various regions, from South to North Vietnam. You might choose to spend a lot of time in one city or region, such as Hanoi and the nearby Ninh Binh Province. Or, take a tour of the whole country with shorter stays in each location. Study a Vietnam travel guide to get a sense of what parts of Vietnam may be of most interest to you and your children.
1. Ho Chi Minh City: Culture and Amusements
Located in southeastern Vietnam, Ho Chi Minh City is a bustling city of 8.4 million with a lot of fun and educational activities for the whole family. Besides checking out the local food and culture, your kids might enjoy checking out September 23 Park, which offers events throughout the year and varied, delicious food carts.
If you are looking for Vietnamese amusement parks for kids, Ho Chi Minh City offers Dam Sen and Suoi Tien. The Suoi Tien Amusement Park is "Buddha-themed," and offers amusement rides, a water park, and even a place to (safely) feed crocodiles. Displayed throughout the park are elaborate statues, many featuring mythological creatures such as phoenixes and dragons.
The Cu Chi Tunnels are a great historical and family friendly stop. These are underground tunnels used by the Viet Cong to sneak past American troops during the Vietnam War. (The VietCong were Communist supporters of Ho Chi Minh, who was fighting to unite Vietnam under communist rule.) Some of the tunnels are very tiny, and only children can fit into them.
Another historical point of interest is Reunification Palace (Independence Palace), the former home of the South Vietnam government. Kids enjoy visiting this Vietnam tourist site, because it is like walking into the 1970s. In addition to the period furniture and decorations, tanks and helicopters from the Vietnam War are also on display.
2. Hanoi: Entertainment in Vietnam's Capital City
No Vietnam travel guide would be complete without at least mentioning Hanoi, Vietnam's capital city, and home to 7.7 million people. Hanoi has many wonderful attractions if you want to visit Vietnam with kids.
For example, Hanoi offers some of the best venues for Vietnamese water puppet shows, especially ones that are the most authentic. Water puppet shows originated in the 11th century and are thought to have developed as a form of entertainment when rice paddies became flooded. Check out the world-renowned Thang Long Water Puppet Theater for an authentic show – that typically lasts about 45 minutes, just short enough to keep the kids from squirming too much.
Looking for Vietnamese museums? Try the Vietnam Museum of Ethnology. This Hanoi museum shares the rich cultural history of the 54 "officially recognized" ethnic groups in Vietnam. The massive 43,799-square-metre complex is found in Cau Giay District, 8 km from the center of Hanoi. Kids will enjoy the hands-on exhibits and life-sized houses that offer plenty to explore.
3. Halong Bay: The Jewel of Vietnam
Of course, a trip to North Vietnam would not be complete without a visit to the stunning landscape of Halong Bay. With sparkling clear waters and the mysterious eroded limestone mountains (or karsks), this may be, hands-down, the most beautiful bay on the planet.
Halong Bay is approximately three to four hours from Hanoi, so make sure you plan on bringing drinks and snacks for the kids. Once there, the best way to experience Halong Bay is by boat. Choose a modern boat by a reputable operator. While old-fashioned wooden junk boats may be quaint to look at, Quang Ninh People's Committee has been phasing them out in favor of safer steel boats by 2030. Don't forget to bring "seasick pills" for motion sickness if it might be an issue!
4. Hoa Lu in Ninh Binh: The Ancient Vietnamese Capital
You may want to visit a more rural Vietnamese setting after the hustle and bustle in Ho Chi Minh City and Hanoi. Hoa Lua in Ninh Binh Province should be your next stop. Hoa Lu is the ancient capital city of Vietnam, and children will love seeing the ruins of the Hoa Lu fortress, as well ancient Vietnamese temples and pagodas. This whole area is simply stunning in its beauty, with limestone mountains covered in fresh greenery and rural rice paddies joining the landscape.
Near Hoa Lu ancient capital are some amazing cave systems that are only accessible via boat. Try Tam Coc or the Trang An Grottoes, which are part of a recognized UNESCO World Heritage Site. Tam Coc is known as "Halong Bay on Land. No motorboats are used to access these intimate cave systems – only small rowing boats, which makes for a great day of family fun.
5. The Mekong Delta:
Located in Southwestern Vietnam, the Mekong Delta is 40,500 square kilometers (15,600 square miles) and consists of a variety of canals, rivers, and rice paddies. It is a great place to walk, ride a bicycle, or drive a scooter with family. You can find coconut candy shops, a brick factory, and even restaurants where your kids can taste cooked cobra!
My Tho is a popular destination for Mekong Delta travelers. It boasts a well-known floating market as well as some beautiful pagodas. Check out the small town of Ben Tre for some friendly hospitality and authentic noodle restaurants. Can Tho, the largest city in the Mekong Delta, offers fascinating floating markets, sculpted gardens, and interesting canal boat rides.
6. Hoi An and the Cham Islands in the Cu Lao Cham Marine Park
If your kids love the beach, then you will want to make Hoi An and the nearby offshore Cham Islands part of your trip. Hoi An has also been recognized as a UNESCO World Heritage Site due to its cultural treasures such as serene temples, authentic pagodas, and antique homes. Hoi An can be toured by bicycle, where you will see colonial architecture along with Chinese and Japanese architectural influences. Hoi An also boasts many shops.
The beach in Hoi An is also accessible via bicycle. You can relax on the beach there, or take an hour-long boat trip to the Cham Island chain. This group of islands located in the South East Asia Sea are part of the Cu Lao Cham Marine Park.
This beautiful area has been anointed as a World Biosphere Reserve by UNESCO. With eight islands – made of granite! – to visit, you will find pristine ocean waters with tropical, sandy beaches. Snorkeling and scuba diving adventures are available at a beautiful coral reef. Hon Lao Island is dotted with fishing villages and also offers fun in the sun.
For Amazing Family Travel, Vietnam Is the Place!
This Vietnam travel guide barely touches the surface of all the wonderful places to go and things to see in Vietnam with kids. The challenge will not be in trying to find something to do, but trying to fit everything in with your trip! From tropical beaches to lush jungles and majestic mountains, Vietnam is a natural wonder. That, coupled with its rich history, amazing cuisine, and cultural attractions, makes Vietnam a top destination for families with kids.