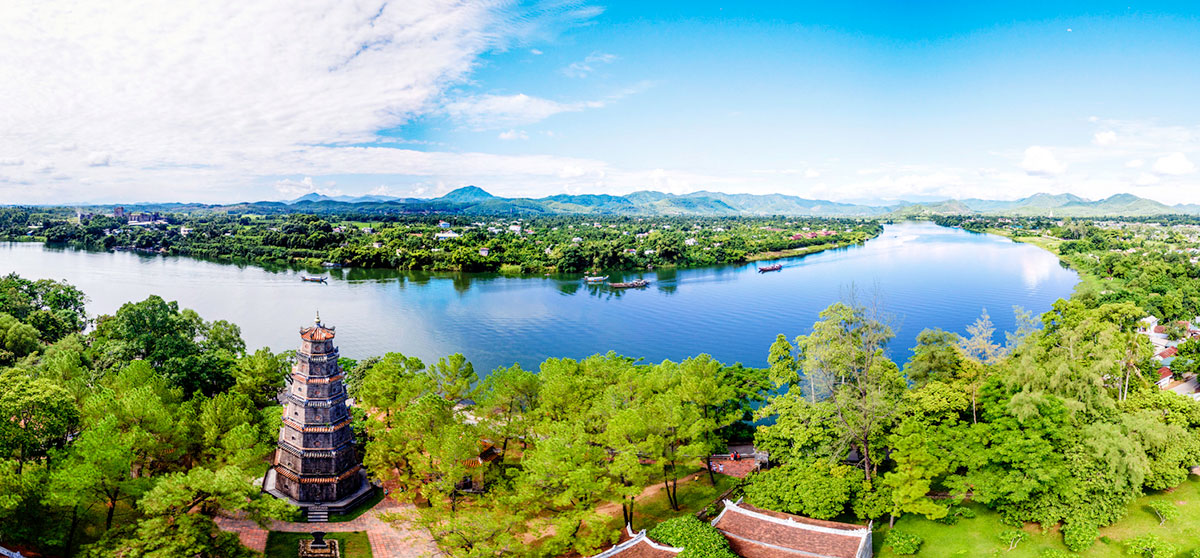 Hue was once home to the emperors of Vietnam. It was the imperial seat for nearly 150 years and still serves as an important cultural center. It is Hue's royal heritage that today attracts visitors to the city, with its imperial tombs and delicious royal cuisine.
But even with its regal heritage, prices in Hue for things like lodging, food and tours are affordable to travelers on a budget. How far will $100 in Hue go?
What do do in Hue
The most popular attractions are the royal tombs, but bike tours and walks along the beautiful Perfume River are lovely, too. While our $100 is mostly in the city, there are plenty of beautiful attractions just outside of town, like the Alba Thanh Tan hot springs and Bach Ma National Park.
Explore Hue by Bike
A bicycle is an inexpensive way to cover a lot of ground and get the lay of the land for further exploration later in your trip. A rental from
HueSmile
costs $4 a day  and includes a map, helmet and water. They will also deliver the bike.
The Royal Tombs in Hue
No visit to Hue is complete without a tour of the famous royal tombs. There are seven tombs in the city, though three of them—Minh Mang, Tu Duc, and Khai Dinh—are considerably more popular due to their accessibility and condition.
You can buy a pass to all three for about $12.50 USD, which is a savings of a dollar or two depending on exchange rates. A ticket to the three tombs and the Citadel will run about $16, notes
TripSavvy
.
Hue Citadel
A three hour
walking tour of the citadel
will cost about $20 and covers the Phoenix Tower, the Museum of Antiquities and Hall of Supreme Harmony. A self-guided tour of the Citadel costs about $6.
Waterfall tour
The Food in Hue
Hue is a food lover's paradise. Here you will find Hue royal cuisine, handed down by the royal court of Hue, especially the courts of the Nguyen dynasty that lasted for 143 years. Many consider this food the pinnacle of Vietnamese cuisine, with delicate ingredients and sophisticated presentations, notes
Voice of Vietnam
. Much of what we know today as Vietnamese food came from Hue. But that does not mean the food is expensive.
The Best Hue Dishes and Prices
Banh ep – a small pancake of tapioca or cassava flour – $0.65
Bun bo Hue – spicy beef soup with round rice noodles – $1.10
Com Hen – stir-fried clams with rice or rice noodles and broth – $1
Banh Khoai – a crunchy rice flour crepe with turmeric, stuffed with shrimp, pork or sausage – $1
Bun thit Nuong – a dish of grilled pork and rice noodles – $1
Nem Lui Hue – pork skewers on lemongrass. Yum. $3 for 10 skewers
Here's a general breakdown on Hue food prices.
Budget breakfast = $1 – $2.50, but many hotels offer breakfast
Budget lunch = $1 – $2.50
Budget dinner = $2 – $5
Beer = 45 cents
2 liter coke = 50 cents
Water = 40 cents
Where to stay in Hue
Though Hue's attractions are more spread out than cities like
Hoi An
the city center is a good place to stay as it is walking distance to transportation and many of the things you want to see.
Shark Hostel
is one of the highest rated on HostelWorld.com and is only about 2.5 kilometers from the citadel. That's a 20-30 minute walk, but they also offer bicycle rentals. Shared rooms are $5.50 a night.
Purple Hue BnB
is here, too. It is close to the local market, less than a kilometer from the river, 1.5 kilometers from the palace. The 5-room bed and breakfast has high ratings on TripAdvisor and a very reasonable $16 a night room rate.  They also offer airport pickup and speak good English. One review noted the owners helped find attractions, arrange transportation and even cooked great food.
If you are looking for something a little less communal than a BnB,
La Paix Hue
might be for you. At $26 a night, the rooms are well appointed with modern furniture and hardwood floors. And the grounds of the hotel are simply stunning.
Breaking Down How Far $100 Goes in Hue
There are any number of ways to break down how to budget $100 in Hue. A middle-of-the-road approach yields the numbers below. Keep in mind your money can go a lot further by choosing more modest lodging and food and eliminating tours.
Hotel – Two nights at the Purple Hue = $32
Food – You can spend less, you can spend more. Two days = $24
Local Tours – Tour the tombs = $12.50
-Swim under beautiful waterfalls = $8
-Citadel guided tour = $20
Bike Rental = $4
Total = $100.50
While tipping is not customary among Vietnamese citizens (and not included in this guide), it does go a long way in showing you are a gracious traveler. If your tour guide has done an amazing job, a tip up to $10 goes a long way.