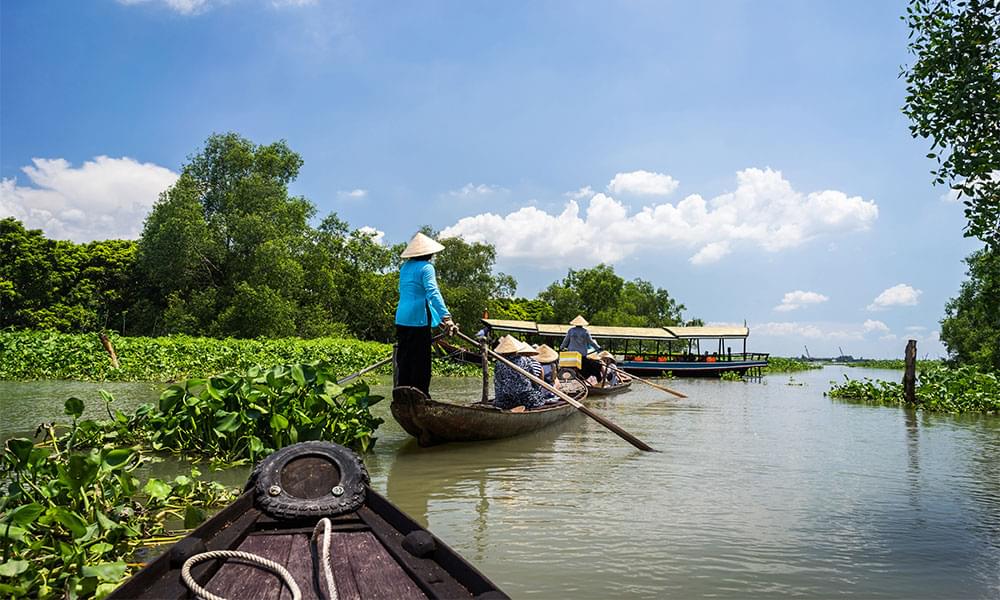 Vietnam is becoming increasingly popular as a travel destination, thanks to its lower prices, gorgeous mountain scenery, and pristine beaches. Enjoy oceanside bungalows and crystal clear water stretching for miles. Relax on the shore, go scuba diving, or try shopping in one of the floating markets. One of the best ways to experience the Vietnamese culture and get a chance to visit various hot spots is with a Mekong Delta tour.
What to Do in the Mekong Delta
Lonely Planet describes the Mekong Delta as, "The 'rice bowl' of Vietnam, the delta is carpeted in a dizzying variety of greens. It's a water world that moves to the rhythms of the mighty Mekong, where boats, houses and markets float upon the innumerable rivers, canals and streams that criss-cross the landscape like arteries."
If you are planning a trip to Vietnam, but don't know what to do in the Mekong Delta, check out some of the attractions and favorite tourist stops below.
Phu Quoc Island
Phu Quoc Island is a peaceful, white sandy beach with calm, shallow water perfect for families, divers, kayakers, and couples. Fewer tourists visit this beach, which means it feels relatively untouched and secluded. April through June, and late October, are the best times to visit Phu Quoc if you want to avoid crowds and have the best weather conditions.
Tra Su Bird Sanctuary
Tra Su is 800,000 acres of wetlands and forest, home to numerous types of wading birds. You can take a speed boat ride along the water and through the sunken forest to spot these beautiful birds. The tour will keep you in areas that won't disturb their homes and breeding areas, but will offer fantastic views. The best time to come to Tra Su is in December and January because this is when the babies hatch.
Can Tho
Can Tho is the largest city in the area and serves as a center for business, transportation, and politics. It is also the best place to find a Mekong Delta floating market, as there are several that cater to tourists. Many canals and rivers branch out from the city and are popular for boat rides.
Sam Mountain
Sam Mountain is covered in temples and pagodas, and acts as a sacred place for Buddhists. You can find Chinese, Islamic, Khmer, and Indian influences in the structures, as well as enjoy unparalleled views from the top. When the weather cooperates, you can see all the way into Cambodia. There is also a Khmer Rouge military outpost from the days when they used to raid Vietnamese villages.
Ben Tre
Explore the riverside promenade in Ben Tre, plan a boat trip, or try keo dua. Ben Tre is famous for it keo dua, which is a coconut candy made in the factories there.
Con Dao Islands
The best way to visit the Mekong Delta is with a tour, but if you have time, you should also check out the Con Dao Islands. These 16 stunning tropical islands make up a portion of the southern coast and are a popular tourist destination. Enjoy tropical rainforests, beautiful beaches, and coral reefs for snorkeling and scuba diving. November to February is the best time to visit the Con Dao Islands.
How to Get a Visa to Visit the Mekong Delta
To visit the Mekong Delta, you will be required to have a valid visa. You will need to apply for approval in advance, then receive a visa stamp in your passport when you arrive in the country. Fortunately, you can easily apply for a visa with Vietnam Visa. There are four steps required for obtaining a visa.
Fill out the online form
Confirm and pay
Print the Approval Letter
Get a visa stamp when you arrive at the airport in Vietnam
You can also apply for a visa through a local Vietnam Embassy. Learn more about Vietnam Visa and how to apply, then start your visa application process today!