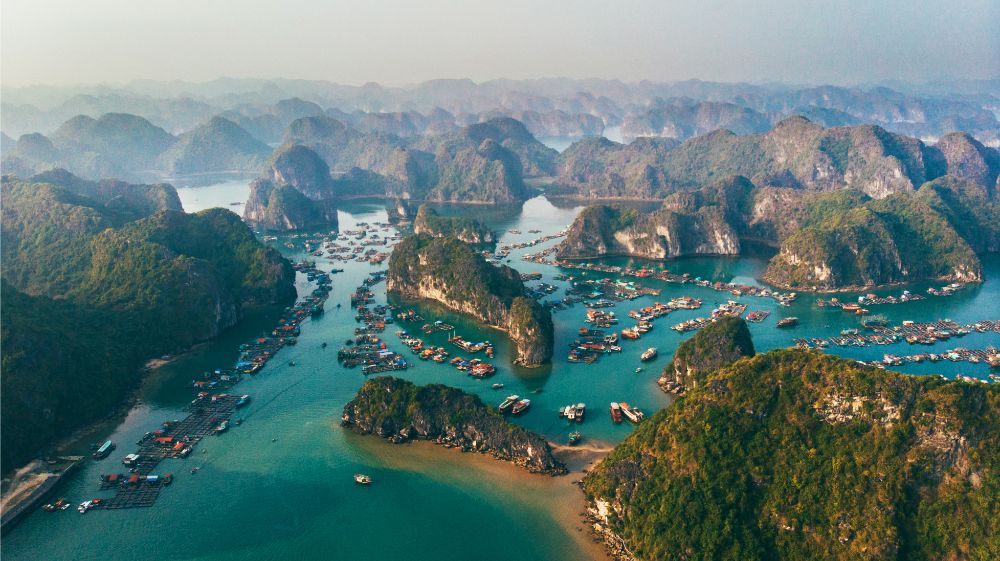 In Hanoi, the capital of Vietnam, there are so many things to do and places to go, such as:
The Vietnam Military History Museum, which is filled with artifacts and weapons
West Lake, a lake with good restaurants and views of Hanoi
Hoàn Kiếm Lake, a great place to take a walk in a park and to buy treats
Take a bike or moped tour around Hanoi
Order meals from downtown street vendors
Get Out of the City and Take a Halong Bay Cruise
In pictures of Halong Bay, you can see why it is a Unesco World Heritage Site. It seems to capture the essence of Southeast Asia—green ocean waters, tan-colored beaches, and limestone towers covered in vibrant green trees rising from the ocean.
The bay features islets (small islands) stretching off into the distance under a bright blue sky, along with boats full of friendly locals and tourists all around. You'll be part of a temporary small community in the bay while you're there.
If you can invest in an extra cruise or outing while you're here, we recommend a Halong Bay vacation.
The Facts about Beautiful Halong Bay
Halong Bay is about a two-hour drive from Hanoi. It is bordered on the north by Halong City and includes 120 kilometers (75 miles) of coastline. It contains about 2,000 islets, although the area designated as a UNESCO World Natural Heritage site has 775 islets.
The bay also has about 1,600 spectacular limestone monolithic islands covered in thick vegetation, that jut directly out of the ocean. Some of these are hollow, containing large caves, which you can tour.
People live on some of the larger islands in Halong Bay, such as Tuan Chau and Cat Ba, which feature beaches, hotels, restaurants, other attractions. Cat Ba also is a habitat of certain endangered animals, like civet cats and black giant squirrels.
The whole bay is usually tropical and wet. From approximately May to October, you will find a hot, moist summer, whereas November through April brings a dry, cold winter.
Luxurious Halong Bay Boat Cruises
To see more of the Halong Bay, try an overnight Halong Bay cruise. Make sure the cruise will allow you to explore beaches, islets, villages, and caves, if you wish. You may also be able to swim, kayak, hike, or lie on a beach, such as the famous beach on Ti Top Island.
It's very worthwhile to research the best Halong Bay cruises and get recommendations for the ones with the highest quality. If you pay for a slightly more expensive cruise, you'll probably be served by crew members with more skill in customer care. A cheaper cruise can be a bad experience.
Cave Tours
Take some time out for a cave tour, especially on Bo Hon Island. The Virgin Cave (Trinh Nu) on Bo Hon has a formation that looks like a woman, and the Sung Sot Cave has formations that look like two sentries talking. You can get an English-speaking guide if you need one.
Many of these caves also contain beautiful stalagmites and stalactites. Dau Go Cave, for example, boasts some formations that are about 20 meters (65 feet) tall. They are often lit up by natural and artificial light. Dau Go also includes a small internal pond.
Kayaking and Canoeing
If you want a really exciting and vigorous adventure, try kayaking or canoeing in Halong Bay. In a kayak or canoe, you can get close to the clear water, the fish, and the coral. You can even paddle into certain caves and touch the stalactites!
If this sounds dangerous, you can get personalized instruction from guides who will show you how to control your craft. If you stay in a group and follow safety rules, it can be very fun and memorable.
Get a Vietnam Travel Visa in Advance
Are you excited about taking a Halong Bay vacation? Get your camera ready and prepare to make some memories!
Then, apply online for your Vietnam travel visa. When you order it in advance, your arrival in Vietnam will be much easier and more convenient. You should be able to get out of the airport and start touring Hanoi as soon as possible. Get ready for an amazing adventure in Southeast Asia!