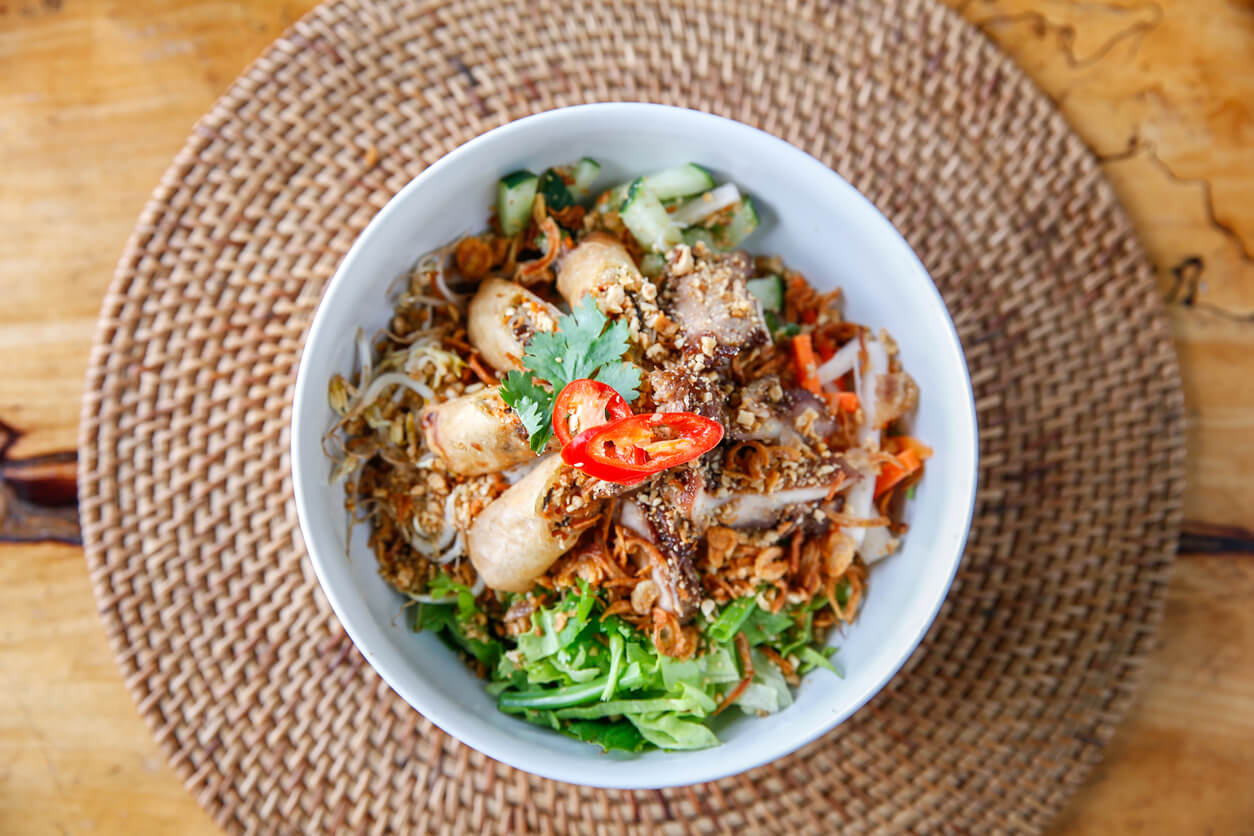 The Vietnamese city of Đồng Hới is considered part of the protected Hin Namno Reserve in Laos. It is recognized for its tropical forest atmosphere surrounded by mountains and flowing rivers. But the food in Dong Hoi is often what attracts most visitors to the city in the first place.
Take a look at this list of some of the best dishes to enjoy when heading to this gorgeous area.
About Dong Hoi
As the capital of Quang Binh, the Vietnamese city of Đồng Hới (Dong Hoi) can be found along the north-central coast. With more than 12 km of coastline, it is a popular destination for those who want to see the beach. Visitors will enjoy white sand and beautiful views of the ocean.
The nearby Phong Nha-Kẻ Bàng National Park is a large area covered with mountains, rivers, cave networks, limestone karsts, and tropical forests. It's a great place to see local wildlife, including elephants, tigers, black bears, and more.
Best Types of Food in Dong Hoi
Anyone visiting the amazing city of Dong Hoi will want to know what they should eat during their time here. You'll be happy to hear Dong Hoi food is delicious and unique.
Bánh bột lọc
With a combination of ground pork and tapioca flour, banh bot loc is a simple and scrumptious rice dumpling cake. It commonly comes as a flat tube, which is steamed while wrapped in banana leaves. Once it's cooked, you'll be able to see the filling of either pork or shrimp through the translucent wrapping. Banh bot loc is usually served with fish sauce or scallion oil for dipping.
Bún Thịt Nướng
Noodle dishes are a common staple in Vietnamese cuisine, and bun thit nuong is a great option found in Dong Hoi food. Usually made with grilled pork, the meat is laid over the top of the noodles and then covered with cilantro, green onions, mint, bean sprouts, pickled carrots, and peanuts. Drizzled with chili sauce, you can stir all the ingredients together for a sweet and spicy meal.
Súp lươn
If you'd like to try something different, sup luon is an eel noodle soup with a strong, aromatic flavor. The soup is made with stir-fried eel, yellow saffron, green onions, and other spices. It is served hot with rice either as a side or included in the soup.
Cooking Classes in Dong Hoi
Once you've found the best food to eat in Dong Hoi, the next step is learning how to make it yourself. By finding local cooking classes, you can see how easy it is to create dishes like these at home.
Ta Station
Among the few places you can take Dong Hoi cooking classes, Ta Station offers the city's only cycling tour. You'll traverse the area finding hidden gems and learning about the local culture before stopping to make your own meal.
MADAM TRAN Hue Cuisine – Cooking Class
Located in Hue, the MADAM TRAN Hue Cuisine cooking class is the opportunity to discover Vietnamese cuisine at its finest. You'll go through an average daily routine with locals of the area, including cooking your own food. Along with cooking, you'll get to go on tour via motorbike to see interesting destinations like the Agricultural Tools Museum.
Hue Cooking Class
Another nearby cooking class was founded in 2013 with the intent to spread education about authentic food from the community. You'll get hands-on cooking experience as you make Dong Hoi food and taste meals prepared by locals at the same time.
Don't Miss Out on Delicious Dong Hoi Food
From its white sand beaches and the national park to the delicious food in Dong Hoi, this area has something for everyone to enjoy. Don't miss out on an opportunity to visit the destination as part of your upcoming trip to Vietnam. You can even spend some time learning how to make Dong Hoi food so you can make it for yourself when you get home.
Vietnam Visa
Are you ready to plan a trip to Vietnam and enjoy the ultimate foodie experience? If so, make sure to apply for a Vietnam Visa online today.