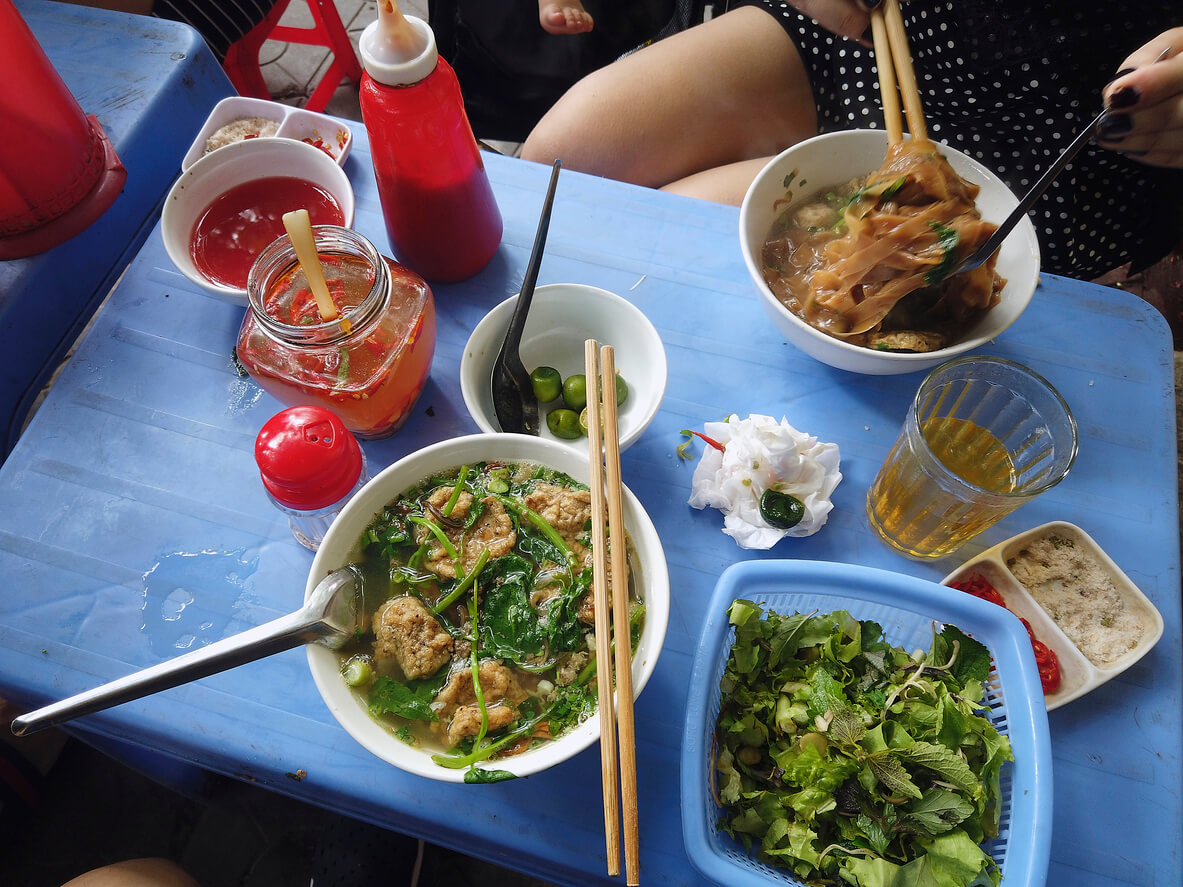 Located on the northeastern portion of the Red River delta, Hai Phong is the third-largest city in Vietnam by population. Originally founded in 1887 by French colonists, it started out as a seaport. In recent decades, Hai Phong has become a major industrial city.
Today, modern visitors can enjoy the unique culture and food in Hai Phong. Thanks to the French influence and its location, Hai Phong food typically consists of seafood with an international flavor.
About Hai Phong
Boasting tree-lined boulevards, Hai Phong has a distinct, laid-back ambiance. People enjoy it because of its relaxed pace, so this city provides a welcome break from some of Vietnam's bustling population centers. If you're interested in trying out Hai Phong food, there are plenty of options to choose from.
When it comes to food in Hai Phong, you can't afford to miss out on the city's cafe culture. Amid colonial architecture in the city center, you'll find cafes spilling out onto the sidewalk. If you have the time, this area is the perfect place for people-watching.
While you're in the area, don't forget to check out Hai Phong's neoclassical Opera House and the Haiphong Museum. Plus, the stunningly elegant Queen of the Rosary Cathedral is always worth a visit.
Best Types of Food in Hai Phong
After arriving in the city, you can start by checking out Hai Phong street food and cafes. Because of its location, Hai Phong is a popular spot for seafood.
Banh Da Cua
As the land of delicious seafood, the best food in Hai Phong typically comes from the ocean. Banh da cua involves boiled red dried noodles, spinach, veggies, fish balls, guise leaves, green onions, and crabs. Because it is a local favorite, you can find it at many restaurants as well as the Tam Bac market.
Snails
French escargot pales in comparison to Hai Phong food dishes. In Hai Phong, you can get an impressive variety of snails at a range of prices. You can find fresh snails at Luong Van Can, Hang Kenh, Dinh Dong, and Le Loi Street markets.
Banh My Cay
Also known as spicy bread, this dish is a top food to eat in Hai Phong. Served up in the afternoon, the bread contains greasy fat and pate in the middle with a crispy exterior. To try out spicy bread, you can visit Le Loi, Dinh Tien Hoang, or Hang Kenh Street.
Cooking Classes & Tours in Hai Phong
After testing out all of the local cuisines, you can try your hand at making Hai Phong street food. The following cooking classes will help you master this unique cuisine.
Avani Hai Phong Harbour View Hotel
For a unique experience of the food in Hai Phong, schedule a visit to the Avani Hai Phong Harbour View Hotel. You can get a three-hour, personal cooking class with a private chef. Plus, each glass comes with a glass of sparkling wine.
Hai Phong Street Food Tours
With Hai Phong Street Food Tours, you can learn more about the cuisine. The entire tour takes about three to four hours, and it involves some of the best markets in the city.
Hai Phong Food Tour
If you want to try Hai Phong food like the locals, the Hai Phong Food Tour is worth checking out. This private tour lasts for about 3.5 hours. During the tour, you can try out Bia Hoi Hai Phong and the culinary art of the Hai Phong people.
Don't Miss Out on Delicious Hai Phong Food
From snails to spicy bread, there is a wide variety of food in Hai Phong to check out. If you've fallen in love with Hai Phong food, a local cooking class can help you recreate your favorite dishes at home as well.
Planning a Trip to Vietnam?
If you're planning a trip to Vietnam, remember that most visitors need a visa to enter the country. Check out our guide on how to apply for a Vietnam visa for more information.