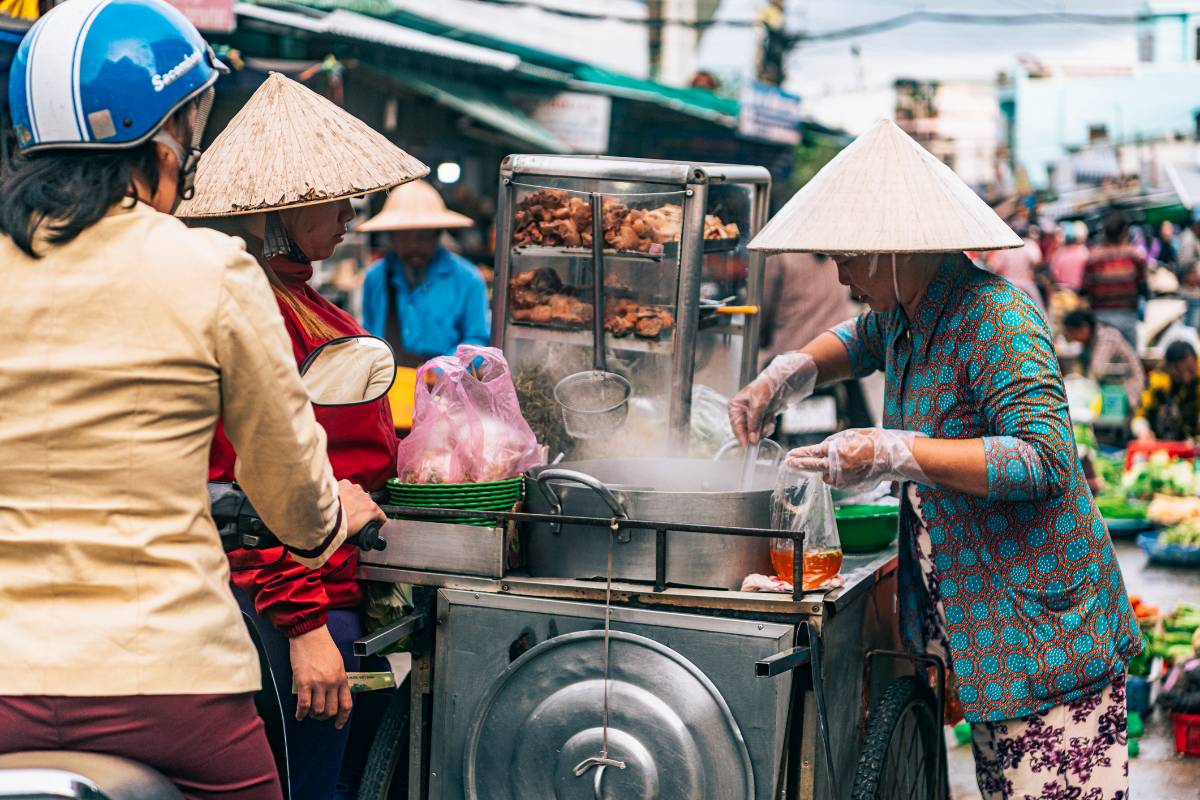 Kon Tum is located in Vietnam's Central Highlands region, which means it is near the borders of Cambodia and Laos. Because of this location, the area is home to a wealth of different cuisines and a rich culture.
After midday, Tran Cao Van Street begins to fill with hungry shoppers who want to try out the latest Kon Tum food and drinks. Whether you are learning about the area's history or just want to try the food in Kon Tum, you should plan on spending a few days exploring this city.
About Kon Tum
Modern Kon Tum still has architecture and cultural remnants from the French colonial period. At the same time, there are also tribal villages in the province. Visitors can see a museum about the local hill tribes and a historic Roman Catholic church.
Other than checking out local landmarks, you can also enjoy the food in Kon Tum. Known as a great place for delicious restaurants, Kon Tum food has helped to make the area famous.
Best Types of Food in Kon Tum
If you're in the area, there are a variety of dishes you should try. The following are some of the best Kon Tum food and drink specialties.
Bamboo Shoot Sticky Rice
When it comes to the best food to eat in Kon Tum, you can't afford to miss out on bamboo shoot sticky rice. This local specialty is made from fresh bamboo shoots and sticky rice. Then, this simple dish is typically served with fish or tofu.
Goi La
If you want to try Kon Tum street food, goi la is a good dish to start with. It's a refreshing take on traditional spring rolls. The dish is made with shrimp, pork belly, green leaves, shredded pork skin, child, pepper, and salt.
Mang Den
Known in English as toasted pig, this dish is a local specialty. You'll need to bring an entire group to dinner because this dish involves toasting an entire pig on a charcoal fire. Each pig is stuffed with ingredients from the mountains, so the finished dish is unbelievably delicious.
Cooking Classes in Kon Tum
Once you discover your favorite food in Kon Tum, the next step is learning how to make it. The following cooking classes can help you learn how to make your favorite local specialties.
Vietnam Discovery
If you're looking for a longer tour, the 14-day Vietnam Discovery tour is a great option. In addition to seeing cultural and historical sites throughout Vietnam, you'll get opportunities to cook Vietnamese food and taste-test your favorites in the area.
Personalized Cooking Classes
Another way to experience the food in Kon Tum is with the help of a personal chef. After you sign up for a class, the chef will buy local ingredients for all of the best Kon Tum dishes. Then, they will come to your location to teach you and up to seven of your friends how to cook all of your favorite foods.
Jolie Cooking Class
Since there are only a few cooking classes directly in Kon Tum, you may need to venture to nearby cities to find the right class for your schedule. At the Jolie Cooking Class, you can pick foods out at the market, tour local farms, and learn how to make all of your favorite dishes.
Don't Miss Out on Delicious Kon Tum Food
After you've explored the best food in Kon Tum, you can learn how to make some of your favorites. Kon Tum food is known for its deliciousness, so don't forget to bring home some of your favorite treats for all of your friends and family members.
Vietnam Visa
Are you looking forward to visiting Kon Tum and exploring all its culinary delights?  Make sure to apply for your Vietnam Visa before you go!