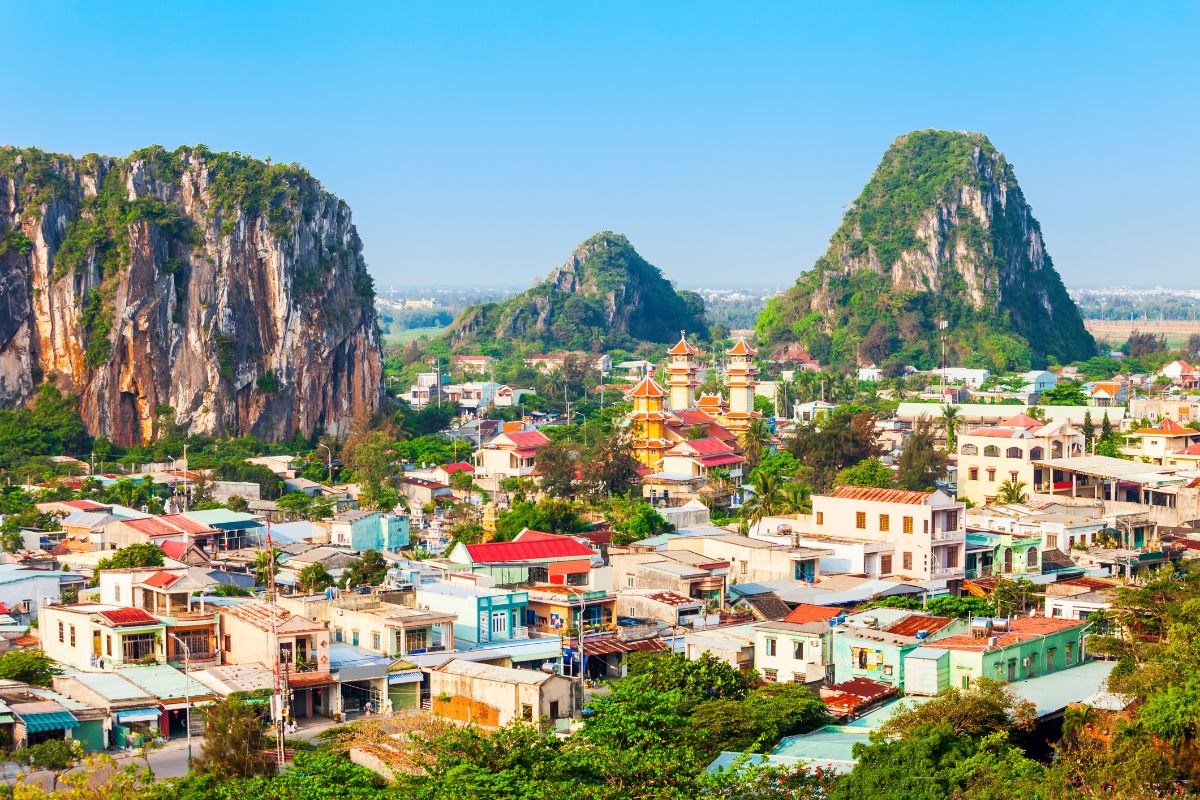 Each year upwards of fifteen million people visit Vietnam. It is no wonder that with its diverse natural beauty, unique culture, delicious food, and more, that Vietnam is a popular tourist destination. But, sometimes, being thrust in with throngs of other tourists can hamper your ability to experience authentic Vietnam.
If you are looking for things to do that are unique to Vietnam, then why not explore the lesser-known, hidden gems? By stepping off the proverbial beaten path, you can take in the majestic beauty of Vietnam, experience the traditional Vietnamese culture, and avoid the crowds.
15 of the Best Places to Visit in Vietnam
Here are fifteen of the lesser-known places you will find when you step off that beaten path. While many of the locations may be more remote, you might be surprised at the accessibility of these Vietnam travel spots.
1. Cham Islands, Part of Cu Lao Cham Marine Park
If you love the tranquility of a tropical island but want an alternative to tourist traps like Hawaii's Waikiki, try the Cham Islands. Vietnam's Cham Islands are located near the town of Hoi An on the coast of the South China Sea. The Cham Island chain can be reached via an hour-long boat trip.
Recognized by UNESCO as a World Biosphere Reserve, the Cham Islands are part of the Cu Lao Cham Marine Park and consist of eight small islands. A natural coral reef provides the perfect spot for exploring underwater wonders via snorkeling and scuba diving.
2. Bai Tu Long Bay, the Northeast Portion of Halong Bay
The world-famous Halong Bay is certainly still a treat when visiting Vietnam, but it can be busy. If you want to avoid crowds and experience a quieter, more serene Vietnam, Bai Tu Long is the place to visit. Filled with clean and often deserted beaches, Bai Tu Long Bay spans 100km and travels up to meet the border to China. With beautiful limestone karst mountains covered in green and breathtaking water views, Bai Tu Long will not disappoint.
3. Co To Island in the Gulf of Tonkin
Co To Island is actually an archipelago, or a group of many small islands – the main island being Co To Island, along with the smaller Co islands, Thanh Lam island, and many more. Located off North Vietnam near Van Don Station and Quang Ninh Province, Co To Island features soft white sand that contrasts with the aquamarine ocean waves. With its quaint fishing village, lighthouses, and forests, there is plenty to explore.
4. Con Dao Island, the Mysterious Island
Con Dao Island is a true hidden gem. Con Dao National Park makes it an amazing place to experience local wildlife. Other popular activities include exploring coral reefs and fishing. Unfortunately, the secret may be out: In 2011, Con Dao was named by Lonely Planet as one of the "Top 10 Mysterious Islands."
5. Nam Du Islands, Part of Kien Giang Province
Another stunning archipelago to visit in Vietnam is the Nam Du Islands, located 60km from the Vietnamese mainland. While these twenty-one islands may not boast tons of white sandy beaches, they are still some of the most breathtaking beaches you will ever see. Offering stunning panoramic views, the Nam Du archipelago is often called the "mini Halong Bay."
6. Ly Son Island, Quang Ngai
Needing your fill of fresh Vietnamese seafood? Try Ly Son Island! Found in Northeast Vietnam, Ly Son is the only island district in Quang Ngai. Seafood, seaweed delicacies, Vietnamese garlic salad, and even salted anchovies are just a few of the island's fare you can experience during your visit.
7. Bình Ba Island, Cam Ranh Bay
Located in Cam Ranh Bay, a mere 20km from mainland Vietnam, is Bình Ba Island. Known as "Lobster Island," this is another wonderful place to visit if you love seafood. The lobster here is not only affordable but plentiful and considered to be the best in all of Vietnam. Bình Ba Island is an interesting place to tour for its historical significance. Spend time exploring bunkers, cannons, and even a tunnel built into a mountain, all relics of the French colonial era of the 1940s.
8. Pleiku – The "Best Sleeping City" of Vietnam
If you are looking for an urban experience in Vietnam without all the stress, try Pleiku, also known as the "best sleeping city" of Vietnam. With a population of around 450,000, Pleiku offers shopping, restaurants, and attractions. Located in a valley in central Vietnam, Pleiku's beautiful scenery and plentiful opportunities for nature hikes are a must-see.
9. Kon Tum, Connecting to Laos and Cambodia
If you would like to experience Vietnam's nature beyond the beaches, visit the Kon Tum province. Located in the Central Highlands, Kon Tum is a true representation of rural Vietnam. Connecting with the countries of Laos and Cambodia (the Indochina Fork), the Kon Tum province has many natural wonders. To the north, you can see the highest granite mountain range found in southern Vietnam. Beautiful forests and rivers play host to exotic wildlife and rare birds. Kon Tum is also known for its red basalt soil. Other notable places are the Dak To Hot Spring, Kon Tum Museum, Wooden Church, and the Ho Chi Minh Trail.
10. Trang An Grottoes
The Trang An Grottoes are a series of caves and waterways that are accessible by a small boat. Located in Ninh Binh province, Trang An is close to the ancient Vietnamese capital of Hoa Lu. More visitors tend to visit the caves nearby in Tam Coc, but because of this, hawkers and vendors often bog down the experience. For this reason, some travelers prefer Trang An, which is quieter, less commercial, and just as beautiful.
11. Ban Gioc Waterfall, Cao Bang
While famous amongst locals in the Cao Bang province, the Ban Gioc Waterfall is not a typical spot for international tourists. This stunning waterfall, backed by limestone hills, makes it a must-see. Nearby, the fantastic Nguom Ngao cave features a fascinating collection of stalagmites and stalactites.
12. Pu Luong Nature Reserve
The name "Pu Luong" is Thai for "highest mountain." Four hours southwest of Hanoi, the Pu Luong Nature Reserve is a wonderful place for ecotourism. This amazing area boasts quaint villages nestled among forests, rice paddy terraces, abundant bamboo, and Vietnam's unique mountain landscape.
13. Ha Giang Province
For people who love mountains, Ha Giang Province should be on their list. Located in the Vietnamese northwest highlands, Ha Giang is a place with meandering roads that wind through rocky, green-covered mountains and serene valleys. Filled with traditional Vietnamese terraces, Ha Giang is also a producer of buckwheat. Noteworthy places to visit include the Dong Van rock plateau (recognized by UNESCO), the mansion of the Vuong family, the majestic Lung Cu flag tower (Vietnam's "North Pole"), and the "Happy Road." The Ha Giang Loop, also known as the Happiness Road, is breathtaking! The best way to experience it is to take a three-day motorcycle trip.
14. Ba Be Lake, Bac Kan Province
Ba Be Lake is an exceptional freshwater lake. It was formed by geological changes millions of years ago. These geological events also created stunning limestone mountains and karsts, along with mesmerizing caves. Imagine boating or kayaking through a watery wonderland surrounded by mystical mountains and green jungles.
15. Dien Bien Phu, More Than Just a Battlefield
The Dien Bien Phu province in Northwest Vietnam is well-known for being the location of "The Battle of Dien Bien Phu," fought between the French and the Viet Minh communist revolutionaries in 1954. This battle is considered a major turning point in the war, vital to the defeat of the French. For those interested in history, relics from the battle can still be seen.
Dien Bien Phu is a fitting example of Vietnam's diverse natural bounty. Beautiful mountains, lush forests, and winding rivers are all there, with many lakes and caves to explore. You can also visit a 150km rice paddy field in Muong Thanh valley.
Looking for Things to Do in Vietnam?
If you are looking for a more non-touristy Vietnam experience, then you have found it! Enjoy wandering the less beaten paths of Vietnam's beautiful islands and beaches to its inland wonders. The most memorable places to visit in Vietnam are often the least known. Let Vietnam Visa take the hassle out of getting your Vietnam visa, so you can spend that time planning your Vietnam adventure.