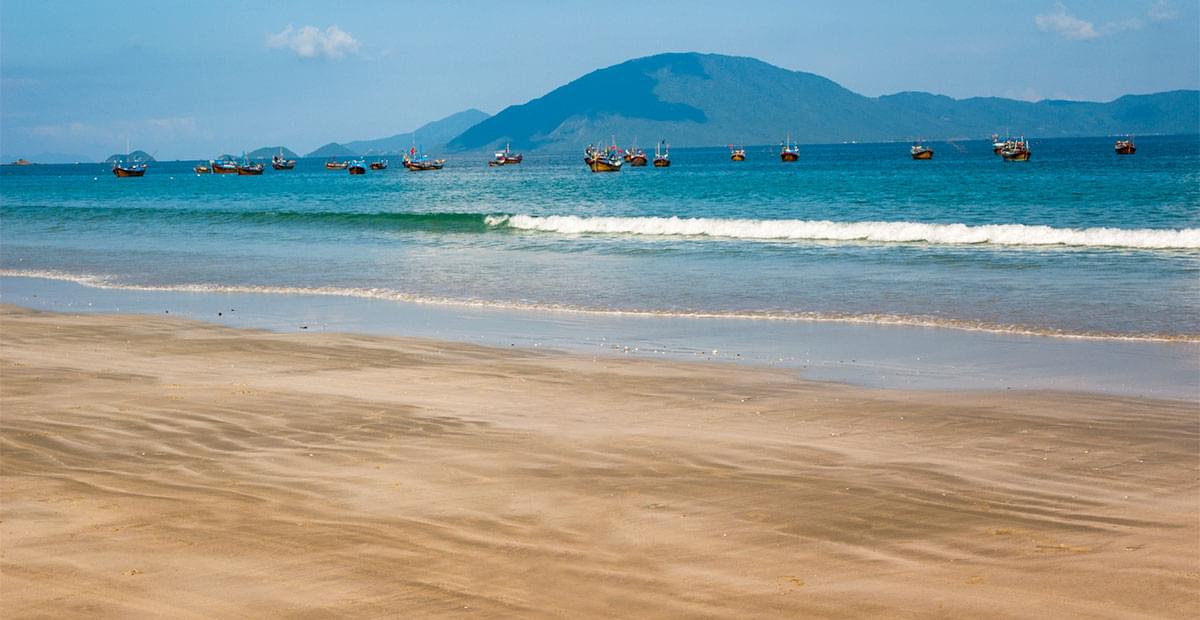 When planning a trip to Vietnam, be sure to reserve some time to explore southern Vietnam's many beautiful beaches. The country has over 2,000 miles of coastline! With that much land along the sea, there is a perfect beach for every traveler.
In the post below, we list some of the best beaches in Vietnam (they're almost all in southern Vietnam!), and we also mention a few beaches to avoid. Whether you're looking for a unique beach that's only accessible during low tide or a luxury Vietnam beach resort, there is a beach in southern Vietnam for you!
Bai Nhat Beach
If you're feeling adventurous and want to get away from it all, check out Bai Nhat Beach on Con Son island. The beach only appears at low tide, so be sure to check out local tide charts when you plan your trip. You'll find smooth sand, beautiful emerald waters, and great views of Con Son's famous peak.
Ham Tien Beach
Ham Tien Beach is one of the best beaches surrounding the fishing town of Mui Ne. Many water sport enthusiasts refer to Mui Ne and the surrounding beaches as the "kiteboarding capital of Southeast Asia." There are a ton of kiteboarding schools in the area where visitors can rent equipment and receive kiteboarding lessons. Also, near Mui Ne are expanses of beautiful red and white sand dunes – an unexpected landscape to find in Vietnam!
Bai Xep Beach
Bai Xep Beach is a smaller beach near the town of Quy Nhon. The beach is known for its serene, sheltered water and beautiful views of nearby, smaller islands. The beach is next to a small fishing village, too, so you're sure to find some delicious seafood during your visit.
Ganh Dau Beach
Ganh Dau Beach is located on Phu Quoc, a stunning Vietnamese island off the coast of Cambodia. Beautiful palm trees and idyllic sandy beaches line most of Phu Quoc's coastline. Ganh Dau Beach is one of the most beautiful beaches on Phu Quoc, and some visitors say that the sea at Ganh Dau Beach is "as calm as an infinity pool." You can get to Phu Quoc island by plane or by one of the many ferries from nearby cities.
Hon Chong Beach
Hon Chong Beach is one of the many fantastic beaches surrounding the coastal town of Nha Trang. It features a relaxing atmosphere and a unique rock formation that extends from the beach into the water. For a small fee, tourists can climb on the rock formation. It's a fun activity, and you will have some great photo opportunities as well!
Doc Let Beach
Doc Let Beach is about a 45-minute drive north of Nha Trang, rather than just a five minute drive north of Nha Trang city center like Hon Chong beach. You can read more about Nha Trang and the surrounding area in our Nha Trang travel guide. Doc Let Beach has a busy northern end and a tranquil southern end. So, whether you want to relax on the beach in peace or enjoy exciting activities like parasailing, you can find what you're looking for at Doc Let Beach.
Also worth mentioning are the nearby Ba Ho Waterfalls. It's great for a swim, and if you're an adrenaline junky, it's great for cliff jumping as well! Visitors to Doc Let can get to the Ba Ho Waterfalls by taxi or hired motorbike.
Some southern Vietnam beaches to think twice about
Of course, some beaches are better than others, and some beaches have seen better days. Below we list a couple of beaches that, in our opinion, are not worth a special trip.
Cua Dai Beach
Cua Dai Beach is just a few kilometers northeast of Hoi An, and while it may have been one of Vietnam's best beaches years ago, it is not the best beach to visit today. The beach has experienced some significant erosion in recent years, and unsightly sandbags line much of the beach. Additionally, there have been reports of quite a bit of trash on the beach and in the water.
Front Beach at Vung Tau
Front Beach is the main beach in Vung Tau, a port town near Ho Chi Minh City. Due to Vung Tau's proximity to Ho Chi Minh City, the beach can become quite crowded with visitors and vendors. There is often a significant amount of trash on the beach, and the water is quite polluted.
Vung Tau can be a fun day trip from Ho Chi Minh City. However, we wouldn't recommend Vung Tau's Front Beach as a top beach destination. If you're looking for places to see and activities in Ho Chi Minh City, check out our Ho Chi Minh City travel guide to see our recommendations!
Central Vietnam has some great beaches too
While most of Vietnam's most picturesque beaches are in southern Vietnam, central Vietnam is home to some fantastic beaches, too. We'd be remiss not to mention them in this article. The main city in central Vietnam is Da Nang, and you can read more about Da Nang in our Da Nang travel guide.
Non Nuoc Beach
Non Nuoc Beach is about five miles (8 km) from Da Nang's city center. Non Nuoc Beach is a long beach that offers excellent stretches of white sand, and visitors can enjoy the picturesque backdrop of the nearby mountains rising above the blue waters. The beach is easily accessible via taxi, and beach resorts provide great amenities for long-term guests and day visitors alike.
Bai Bac Beach
Also nearby Danang, Bai Bac Beach is an excellent option if you're looking for a beach that's more secluded and serene than Non Nuoc Beach. It's a bit farther away from Da Nang than Non Nuoc Beach, but it is still close enough for a fun weekend getaway.
There are some luxury resorts at Bai Bac Beach, too, including the Intercontinental Danang Sun Peninsula Resort. At these luxury resorts, visitors can enjoy relaxing spa treatments and the peacefulness of exclusive private beaches.
Visitors to Bai Bac Beach can also take about a four-hour hike to the summit of the beautiful Son Tra Mountain (also known as Monkey Mountain).
The next step is to book your flights
If you're ready to pack up and travel to southern Vietnam, we get it! It's time to book your flights! As you plan your trip, be sure to check out our information on how to apply for a Vietnam visa. Additionally, take a look at our article on Vietnam's weather and the best months for tourists to visit Vietnam's beaches. In short, December and January are probably the best months for beach-seeking travelers.
We know that you'll enjoy the beauty of southern Vietnam during your visit. The beaches are stunning, the people are friendly, and the food is delicious. You'll have to come to southern Vietnam to see for yourself!