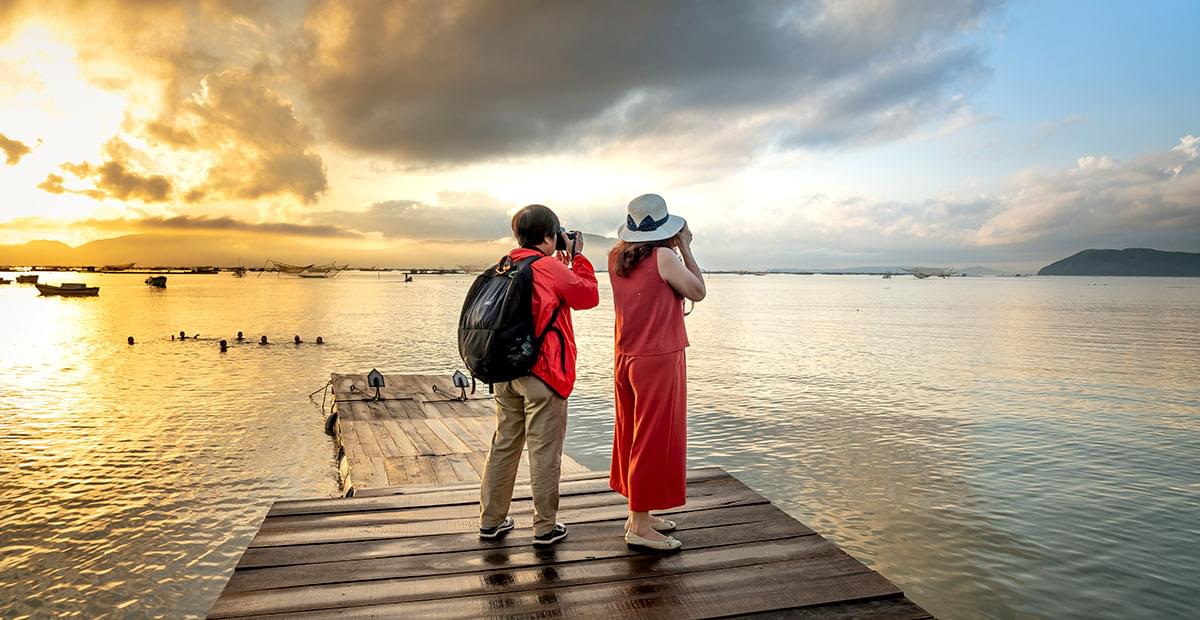 If you're planning on visiting Vietnam, you may be wondering, Which months have the best weather for visiting the country?
It's a hard question to answer, as Vietnam is a vast country with unique weather patterns for each region. The truth is that there is never a "wrong" time to visit Vietnam. At any time of year, there is a location in Vietnam with ideal weather for almost every traveler.
Below, we discuss the typical Vietnam weather seasons, and we discuss how those weather patterns may influence travel plans.
So, What is the weather in Vietnam?
Since Vietnam is such a large country, it is best to consider the country in three regions – northern Vietnam, central Vietnam, and southern Vietnam – when discussing the country's weather patterns.
Vietnam has a tropical monsoon climate, which means that Southeast Asia's monsoon winds govern much of Vietnam's weather patterns. The monsoon winds impact northern Vietnam, central Vietnam, and southern Vietnam in unique ways, and a key feature of a tropical monsoon climate is the yearly recurrence of a wet season and a dry season.
Northern Vietnam and the mountainous far north
In northern Vietnam, the wet season is from May to October. Visitors can expect hot and humid temperatures and, of course, heavy rainfall during those months. In the northern part of Vietnam, January to March are typically the cooler and drier months, which some travelers may prefer.
Vietnam has a mountainous area in the far north, and this far north area has a unique climate of its own. The landscape is certainly beautiful. However, it can get quite cold, and during the winter months, there can even be snow! In the mountainous far north, April to September are the wet months, and October through March are the dry months.
When to go: Most tourists find September and November to be the ideal months to visit northern Vietnam. During those months, tourists can escape the summer heat without having to put up with the cold and often misty winters. Be sure to bring a light jacket for the often chilly evenings! To read more about traveling in northern Vietnam, check out our Hanoi travel guide.
Central Vietnam
In central Vietnam, the wet season is from October to December, which is quite different from the May to October wet season in northern Vietnam. The dry season in central Vietnam typically runs from January until the end of August. While the months of January through August are drier than other months, they are often much hotter, too. Temperatures between January and August in central Vietnam typically range between 85°F to 90°F (30℃ to 35℃).
When to go: Many tourists find March to be an ideal time to visit central Vietnam cities, such as Da Nang, and regional beaches. During the October to December wet season, heavy rains can cause floods. The floods can make traveling on local roads almost impossible! During the dry season between January and August, the temperatures can get scorching hot.
March is an ideal month to visit central Vietnam, as the dry season temperatures are not in full force. Additionally, the heavy rains of the wet season are still months away! Most travelers who explore central Vietnam use Da Nang as a hub. Learn more about Da Nang and central Vietnam in our Da Nang travel guide.
Southern Vietnam
Lastly, in southern Vietnam, the rainy season runs from May to November. Expect intense downpours during the summer months in southern Vietnam! These downpours are typically in the evening and only last a few hours. However, the downpours are intense! The dry season in southern Vietnam typically runs from November to April.
Unlike with northern and central Vietnam, temperatures in southern Vietnam remain rather constant between the dry season and wet season. Average temperatures in southern Vietnam range from 77°F to 95°F (25℃ to 35℃) year-round.
When to go: Since southern Vietnam's average temperatures are largely the same year-round, visitors can only optimize their dates by planning to arrive in the dry season. The cooler, drier months of December and January are very popular months for visiting southern Vietnam. When visiting southern Vietnam, many tourists start their journey from Ho Chi Minh City and branch out from there. If you're visiting Ho Chi Minh City or just passing through, be sure to read our Ho Chi Minh City travel guide.
Also, most tourists visiting southern Vietnam spend time at one of southern Vietnam's beautiful beaches [insert link to other article when we have it], such as the beaches of Phu Quoc island, Mui Ne, and Nha Trang. So, when deciding the best dates for your visit to southern Vietnam, consider coming during the months with the best beach weather!
December and January are not only popular months to visit southern Vietnam because of the dry and cool weather. December and January are also popular months to visit because they are not in the typhoon season. If you're traveling by ferry, you won't run the risk of having your plans delayed due to intense storms if you visit during December and January. Additionally, the water will be clearer during the dry season, as there will be less runoff from rainstorms over the mainland.
Anything else to keep in mind?
One thing to keep in mind is that while some months of the year are ideal for visiting particular regions of Vietnam, the above recommendations do not mean that the other months are bad times for travel! You'll simply have a different experience. Some travelers enjoy the predictable afternoon rains during the wet season. Additionally, budget-conscious travelers can find heavily discounted accommodations and other deals when they travel in non-peak months. If you're interested in learning more about travel costs, check out our useful guide on the cost of a Vietnam vacation.
Also, many travelers visit northern Vietnam, central Vietnam, and southern Vietnam over just several days or weeks. It's therefore impossible for many travelers to visit each region of Vietnam during each region's best months on their short trips. Again, don't worry if your dates do not line up with the suggested months! Regardless of your travel months, you'll have a fantastic experience in Vietnam.
We'll see you soon in beautiful Vietnam
That's all for now. We hope you have a much better understanding of weather in Vietnam and how the weather patterns vary across each region. Go ahead and start booking your trip!
When you're planning your trip to Vietnam, remember that most visitors need a visa to enter the country. Check out our guide on how to apply for a Vietnam visa for more information. Also, check out our useful guide on what to pack when visiting Vietnam for some useful tips!