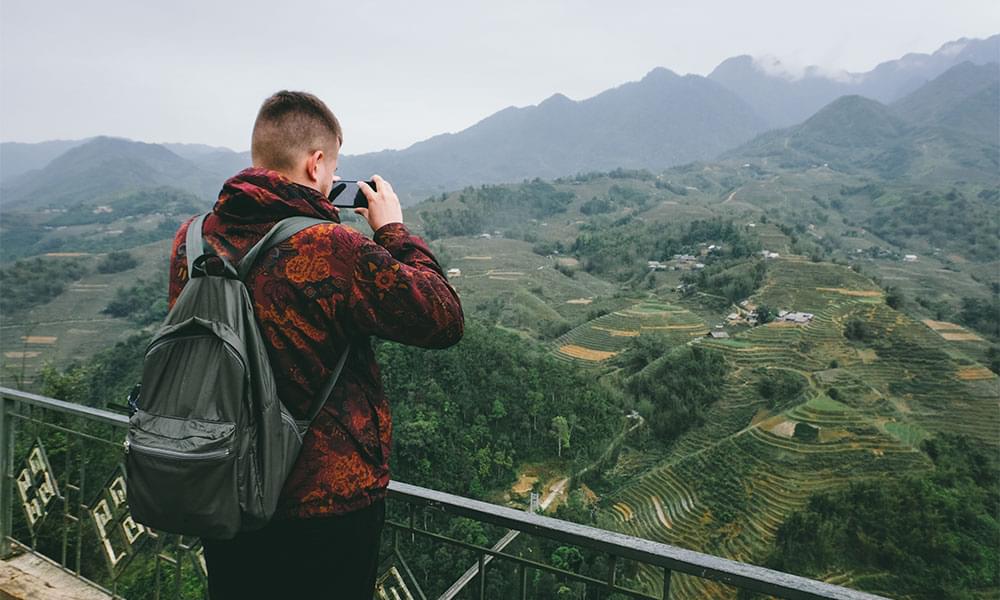 Vietnam is always becoming more modern, especially in the big cities. Roads are always improving. There's more access to the Internet. There are better restaurants. And on and on.
But what if you want a more rugged experience? What if you want to travel off the usual paths or always stay in a Vietnam backpackers' hostel? Then backpacking Vietnam could be for you.
Backpacking is a fun and exciting way of traveling in Vietnam, which offers these and other advantages:
The backpacker scene is well-established.
The locals are friendly and helpful to backpackers.
The street food is amazing and cheap.
There are places of incredible natural beauty to hike to.
7 Best Places to Backpack in Vietnam
There are some typical destinations to visit on the main Vietnam backpack route. They're simple to manage on a low budget, when you're staying in hostels, eating street food, and so on.
If you backpack through all of them, it can take about a month. This list starts in the northern region and works south. Run it in reverse if you're coming into Vietnam in the south.
Hanoi
Rent a bike or walk around this exciting city for a few days, eat the street food, and practice your Vietnamese. Stay in a hostel and get free breakfast for just around $5 USD. Meet other backpackers at Hoan Kiem Lake on weekend evenings.
Sa Pa
This small hill town near Hanoi leads to a lot of mountain hiking trails. You can sleep in nearby villages like Ta Van. The area is famous for beautiful views, rice paddies, and homestay accommodations.
Hạ Long Bay
This World Heritage site has a near-magical group of small islands. You can take a cruise, explore caves, go kayaking and rock climbing, and sleep in beach huts or on a boat.
Huế
This city in the middle of Vietnam features a lot of historical, imperial buildings, like the Đại Nội Citadel. The Perfume River cuts through the city. Rent a bike and explore!
The Hai Van Pass
The trip through this pass provides green hills and fields, mountains, villages, beaches, and many photo-op spots. Rent a motorcycle to drive yourself, or hire a driver. Try to swim in Elephant Springs!
Hoi An
Hoi An is famous for low-cost tailors. There are also beaches and a historic old town from the 1400s (which requires an entrance ticket). Find a hostel that supplies free bicycles to explore it all!
Nha Trang
Nha Trang is perfect for exciting water activities like jet skiing, paragliding, and windsurfing. Head to the beach and see what's available. There are low-cost hostels away from the most tourist-heavy roads.
Read our city brochures to learn more about the best places to backpack in Vietnam!
Backpacking Travel Tips
Vietnam is pretty safe for backpackers, but here are a few items to bring just in case:
Security belt: keep your money safe from petty pickpockets
Backpacker travel insurance: this can protect you if you get robbed, lose all your stuff, get stuck somewhere, and so on
Headlamp: see where you're going when walking or biking at night
Tough water bottle: stay hydrated, especially in the hotter seasons
First aid kit
Mosquito repellent
Sunscreen
Next, think about the season you want to travel in. The easiest conditions for backpacking Vietnam are usually in the spring, from March to April, and the fall, from September to December. These months can help you avoid the worst rains.
Finally, learn to say polite phrases in Vietnamese to win the locals over! Use a phrasebook and practice saying "please," "thank you," "excuse me," "hello," and more. Even if you pronounce it a little wrong, the Vietnamese will appreciate the effort.
Get ready for your trip by getting your visa online if you need one. Contact us at Vietnam Visa for help.