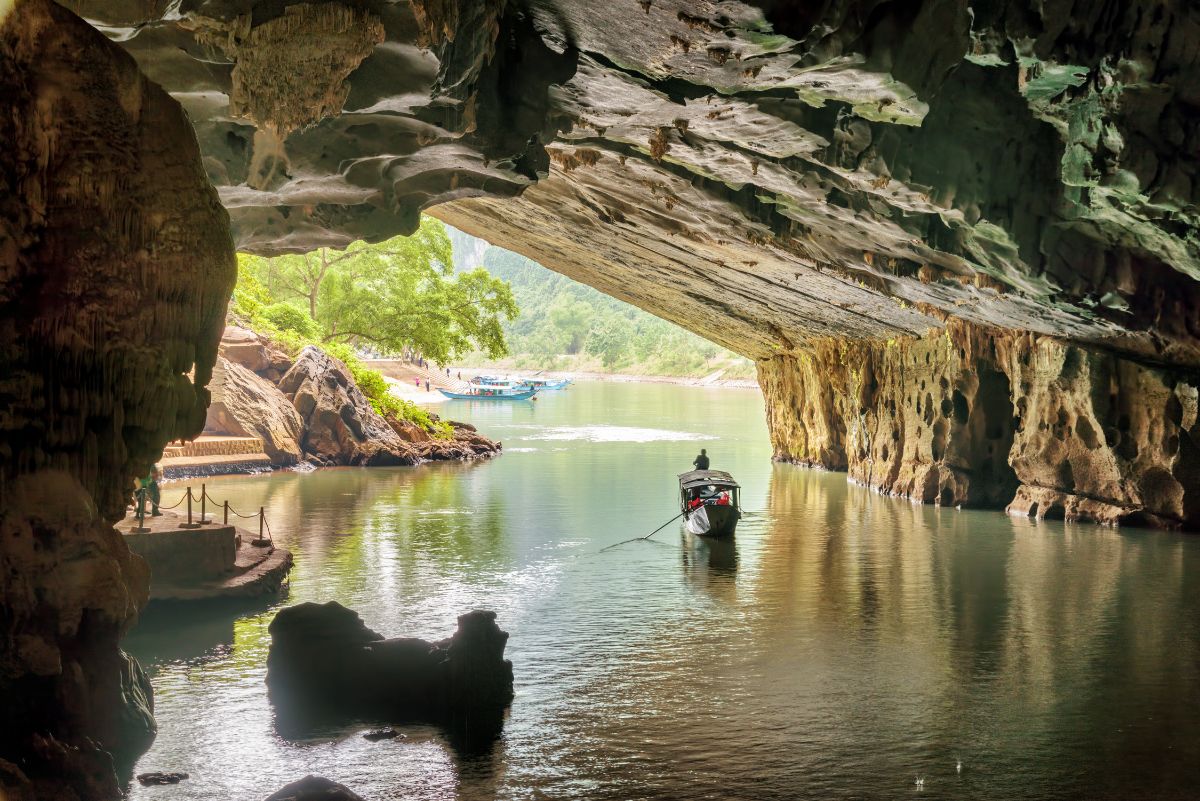 Nestled deep in the recesses of beautiful Phong Nha-ke Bang National Park in Vietnam, the Hang Va cave system promises intrepid travelers the adventure of a lifetime.
The UNESCO World Heritage site of Phong Nha is already home to incredible trekking experiences, unforgettable vistas, friendly locals, and activities to suit every traveler in your group.
While Phong Nha is known for its outstanding network of caves, from the spooky ambiance of Dark Cave to the wide-open splendor of Hang Son Doong, Hang Va takes pride-of-place among the group for its otherworldly natural architecture and the beauty of its underground waters.
Discovered as recently as 2012 within the depths of the Phong Nha parkland, the Hang Va cave is one of the least-traveled caves in the park. In fact, the British Caving Research Association called it one of the most beautiful river caves in the entire world. Its unspoiled beauty has become a beacon to adventurers looking for a thrilling excursion that combines excitement with the wonder and magic of an underground vista.
As such, a trip to Hang Va offers a one-of-a-kind chance to explore some of the rarest, most awe-inspiring cave formations in the world. An expedition like this is the perfect addition to the avid adventurer's bucket list.
Reaching the Hang Va Cave
The entrance to Hang Va is located in a steep valley in an area where the floor has collapsed to provide eager visitors access into the cavern below. This adds a bit of excitement to the beginning of your cave journey, as you will need to descend about 50 feet down into a bracing cold stream that before you can enter into the cave.
But, before you even reach the entrance, you'll have the opportunity to trek through miles of the beautiful vistas of Phong Nha-ke Bang National Park, with its incredible biodiversity, pristine waters, and thick jungles.
A guided tour is the best way to see this cave, and there are plenty of knowledgeable teams that will help you explore the caves and surrounding terrain in safety.
For example, there is a Vietnam cave tour that includes entrance to Hang Va, and short tour that includes sister cave Hang Nuoc Nut, which may share a water source with Hang Va, although this hasn't been proven.
Some Vietnam cave tours give visitors the chance to take a six-mile trek through the wilderness surrounding the cave and continue with about nearly 3 miles of caving once inside the cavern. You will need to be in pretty good physical condition when visiting, as most tours include wading through cold waters, rope-traversing within the cave, bouldering, and rock scrambling.
Make sure you wear appropriate clothing, waterproof all of your important belongings, and prepare yourself physically well in advance of your trip to get the most from your time at Hang Va.
Exploring the Beauty of the Hang Va Cave Formations
Once inside the Hang Va cave, you'll travel to the Hang Va Tower Cones formation where more than a hundred steep cones made of calcite spread out before you across an almost 300-hundred-foot-wide space.
The sheer majesty of these enormous cones is breathtaking. They are all nearly the same height (around 6 feet tall) and they're coated in mere millimeters of a soft mud. To many cave explorers, they look similar to another naturally occurring cone type, the raft cone.
A raft cone is formed when calcite drops to the surface of cave pools where it forms a raft. Eventually, these rafts become so heavy that they sink to the bottom of the pool. Since the calcite is repeatedly dripping in the same spot, raft after raft forms and sinks until they build up into a cone shape that reaches the water's surface.
Tower cones, like the ones in the Hang Va cave, are steeper than raft cones, but scientists have yet to explain why. The tower cones are coated in a knobby layer of calcite that makes them look physically similar to other formations called tufa towers.
Tufa towers form over vents of warm water that are geothermally heated. When these vents become full of dissolved calcite, the movement of the warm water from the vent causes the calcite to precipitate. This precipitate gently settles onto the cones, forming the familiar bumpy texture.
Tufa towers that form inside caves rather than open geothermal waters are called geysermites. One of the cones from Hang Va has been cross-sectioned to show how the porous core of the cone is fitted with upward-pointing branches indicative of a growing geysermite.
Because of the interesting internal formations and cave architecture like cones, tufa towers, and geysermites, Hang Va provides a perfect setting for photographers — both amateur and professional alike. And there is plenty to catch your eye as you notice the formations in the cave changing in myriad ways the further you move into the cave.
Be aware that photography inside may take some pre-planning, since you'll need to squeeze through some pretty tight spots where hauling equipment beyond small cameras might prove difficult. Plus, there is a lot of water to wade and walk through inside the cave and photography equipment must be protected against the elements.
Being Safe in Hang Va
As mentioned, you'll need to be in top physical fitness to handle some of the obstacles inside — and outside — of the cave. If you're physically fit and you've done some long-term trekking before, you're probably fine to take one of the Hang Va Vietnam cave tours.
But you'll definitely want to connect with a locally operated tour company that is dedicated to making this challenging journey as safe and fun as possible. Tours will provide you with a knowledgeable guide who not only knows correct caving techniques and is looking out for your safety but is also equipped with in-depth knowledge about the cave and all the features within.
Having an expert explain the cave formation and points of interest adds value to your excursion and brings even small details to light.
Most Vietnam cave tours to Hang Va keep group size small — usually no more than eight adventurers per group — so that the utmost attention can be paid to safety and also so that to visitors receive the highest level of personal attention. In addition, a tour company can supply you with the best — and safest — caving equipment with which to explore Hang Va. This can consist of hard hats, head lamps, and climbing gear among other things.
Hang Va is a river cave, so it's no surprise that there will be a fair amount of swimming — or at least getting wet— inside Hang Va, so you'll need clothing that can withstand getting soaked as well as life jackets sized appropriately for your age and weight for good buoyancy and safety. While life jackets are supplied by guide companies, you'll need to make sure to pack some dry clothing in waterproof storage bags for when you exit the cave.
Guides will be watching carefully to ensure you are not only safe but enjoying your excursion. They're not just guides, but highly trained professionals that have intimate knowledge of the cave as well as superior knowledge of safety procedures.
Prepare for a Hang Va Visit with a Vietnam Visa
To visit the Hang Va cave or to participate in any Vietnam cave tours, you will need a valid visa. This means applying for approval in advance, then receiving a visa stamp in your passport when you arrive in the country. Fortunately, this is easy when you apply for a visa with Vietnam Visa. There are four steps required:
Fill out the online form
Confirm and pay
Print the Approval Letter
Get a visa stamp when you arrive at the airport in Vietnam
You can also apply for a visa through a local Vietnam Embassy. Learn more about Vietnam Visa and how to apply, then get ready to experience the excitement of a Hang Va cave tour!