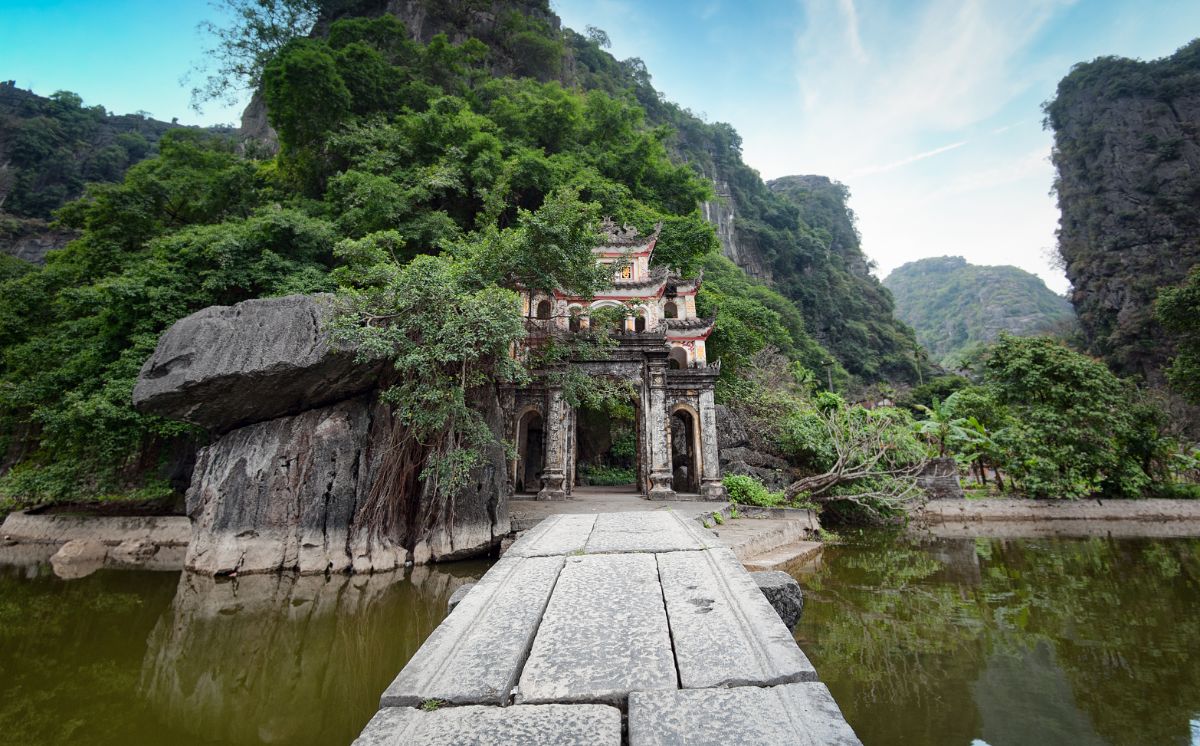 A visit to Vietnam would not be complete without experiencing the rich Vietnam History that lives on in hidden treasures like Hoa Lu, located in the province of Ninh Binh. Known as the "ancient capital" of Vietnam, Hoa Lu is approximately 100 km south of Hanoi in northern Vietnam.
A trip to Hoa Lu and Ninh Binh offers stunning natural beauty alongside cultural treasures, architectural wonders, and magical adventures. The Hoa Lu ancient capital is known for its striking architecture, including imposing stone gateways that contrast with modest temples and pagodas.
You'll also discover beautiful limestone mountains covered in green, sparkling rivers, mysterious caves, and famous sanctuaries. A respite from the bustle of large Vietnamese cities, Ninh Binh offers a relaxing experience of authentic Vietnam in a quiet, rural setting.
The centerpiece of a trip to Ninh Binh province is the archeological remains of the former Vietnamese capital Hoa Lu. Along with viewing genuine Vietnamese temples and pagodas, visitors can also explore nearby cave systems by boat, an enchanting experience – often the highlight of the trip. One of the UNESCO World Heritage Sites, the Trang An Landscape Complex is a must-see, with sparkling water caves and grottoes that are best accessed via tour boat.
Travel Back in Time to the Dinh and Le Dynasty
The history of Hoa Lu in Ninh Binh history goes back more than 1,000 years, when it was made the capital of Vietnam during the De Dynasty, which lasted from 968 to 980. Hoa Lu continued to be the capital of Vietnam during the first Le Dynasty of 980 to 1009.
(The "Earlier Le Dynasty" is different from the "Later Le Dynasty," which ruled from 1428 to 1788 and was the longest imperial dynasty of Vietnam.)
In the year 1010, the Vietnamese capital was moved to Thăng Long under the Ly Dynasty. Thăng Long is now called Hanoi and is still the modern Vietnamese capital one thousand years later!
The former Vietnamese capital, Hoa Lu, has since become a treasure trove for archeologists and visitors who want to learn more about the traditional Vietnam of the past.
While the ancient capital itself is mostly gone or in ruins, many temples still remain, as well as portions of an ancient fortress or citadel built by the Dinh dynasty.
When it was built, the ancient citadel was designed to mesh with the beautiful scenery, as it was built with the mountains at its back. This wasn't for looks – the mountains and waterways provided natural protection against invaders.
The capital was separated into the inner and outer citadels by a limestone mountain, the inner to the west and the outer to the east. The Hoàng Long ("Golden Dragon") River reached both sides of the citadel and would supply fresh water to the soldiers who used the fortress in ancient times.
Fortunately, due to its location in the northern part of Vietnam, Hoa Lu was never attacked, but this was perhaps due in part to how well its natural surroundings protected it.
Only parts of the fortress constructed the Dinh dynasty remain, with the imperial palace now 3 meters underground. Some of archeological remains from the royal families of the past are available for visitors to view.
Today, you can also see some sections of ancient earthen walls that were constructed to protect the capital in ancient times. These walls were made of earth and wooden stakes, and could go as high as 10 meters and as deep and wide as 15 meters.
Visit Ancient Vietnam Temples and Pagodas to Enjoy Vibrant Vietnam History
The Hoa Lu experience would not be complete without exploring its quaint, historical temples. Two famous temples were constructed in the 17th century to honor Vietnamese emperors, Dinh Bo Linh at the Dinh Temple, and Le Dai Hanh at the Le Temple.
Providing a chance to experience traditional Vietnamese temple architecture, these two sanctuaries showcase distinctive stone carvings. These stone carvings are often part of decorate walls that incorporate geometric designs with floral flourishes.
Particularly impressive is the main gate to the Dinh temple. This two-part stone gate has two arches, one known as the "outer triumphal arch" and the other as the "inner triumphal arch."
Many visitors to these historical treasures recommend getting an official tour, as the local tour guides do a wonderful job of explaining the history of these Vietnam temples. You will also learn about the meaning of various architectural structures. For example, the temple staircases are grouped in nine steps each, which in Buddhism represents long life and reincarnation.
Nhat Tru Pagoda
A visit to the Dinh and Le temples would not complete without exploring the nearby Nhat Tru Pagoda. The Nhat Tru Pagoda is also known as "One-Pillar Pagoda" or "First Column Pagoda" because it features a large stone pillar in the middle of the courtyard. This pagoda is still used as a Buddhist sanctuary today.
Nhat Tru Pagoda is perhaps best known for the story of Princess Kim, the daughter of Dinh Tien Hoang, the first Vietnamese emperor. Princess Kim ran off with a court official after being pledged in marriage to him by her father. She and the official had betrayed the emperor and joined what was the kingdom of Champa at the time (which is now south Vietnam).
Eventually, Princess Kim returned home, only to be thrown in prison for treason. She was released from prison and became a nun at Nhat Tru Pagoda. After the assassination of her father in 979, the princess drowned herself in a well next to the pagoda.
The well is dedicated to her memory, along with a small temple next Nhat Tru Pagoda.
Nhat Tru Pagoda is not only a national monument, but it is valued for being a living example of Vietnam history. The layout and architecture are prime examples of the Dinh style.
Travel Adventures in Nearby Caves and UNESCO World Heritage Sites
For the best in natural beauty as well as cultural heritage, explore the nearby water systems and caves by boat. Two main areas are recommended: Trang An and Tam Coc.
Trang An Grottoes
The Trang An Landscape Complex is one of the UNESCO World Heritage Sites, the first one in Vietnam. These UNESCO World Heritage Sites are designated as protected areas for both nature and national culture.
Trang An is only a few kilometers from Hoa Lu. There you will find lush greenery and the striking limestone mountains, which harbor secret caves and grottoes. The Trang An Grottoes are a maze of waterways that pass through stunning limestone caves.
A local rower will take you through these amazing wonders. Three main routes exist, each of which is different and unique in terms of scenery and experiences.
Tam Coc: 3 Caves
Technically speaking, Tam Coc is part of the the Trang An Landscape Complex. However, you will find many websites referring to "Trang An" and "Tam Coc" as separate areas for experiencing boat rides. (We will distinguish these two by referring to the former as the "Trang An Grottoes.")
The Tam Coc cave system is a more well-known and commercialized destination than the Trang An Grottoes, so it tends to be more crowded. Also known as "Halong Bay on Land," Tam Coc is hugely popular due to the three large caves, Hang Ca, Hang Hai, and Hang Ba, all connected by the Ngo Dong river, which flows through a mountain.
Be aware that boat rowers in Tam Coc expect extra tips and vendors are there to sell food, so keep that in mind when taking a Tam Coc boat trip.
Traveling to Hoa Lu in Ninh Binh
To reach the ancient ruins of Hoa Lu, you must first travel to Hanoi, the modern capital of Vietnam, accessible via affordable flights from around the world. Traveling to Ninh Binh province from Hanoi is fairly easy. Trains, buses, and rental cars are available (with a driver), as well as many guided tours.
Trains take approximately 3 hours from Hanoi, with busses as the faster option at an estimated one-half the time. A day trip from Hanoi can be arranged if you do not have time to spend a few days in Ninh Binh.
If you are adventurous, you can rent a motorbike for your trip to Ninh Binh and Hoa Lu. Having a motorbike can be a wonderful way to travel around the Ninh Binh province to visit various attractions, while experiencing the natural beauty.
With a hot, humid climate all year round, Ninh Binh can be a great place to visit almost any time of the year. It does rain a lot, and September may be more prone to typhoons. But, sometimes the rainy season is the best time to visit, as this is when the rice fields grow into a beautiful emerald green.
Experience Living Vietnam History by Exploring the Royal Capital of Vietnam
If you would like to experience a taste of Vietnam's rich cultural past, visit Hoa Lu in Ninh Binh, considered by many travel experts as a "rising star" of Vietnamese tourist attractions. With its historical relics and breathtaking scenery, the Hoa Lu ancient capital is a must see in northern Vietnam.