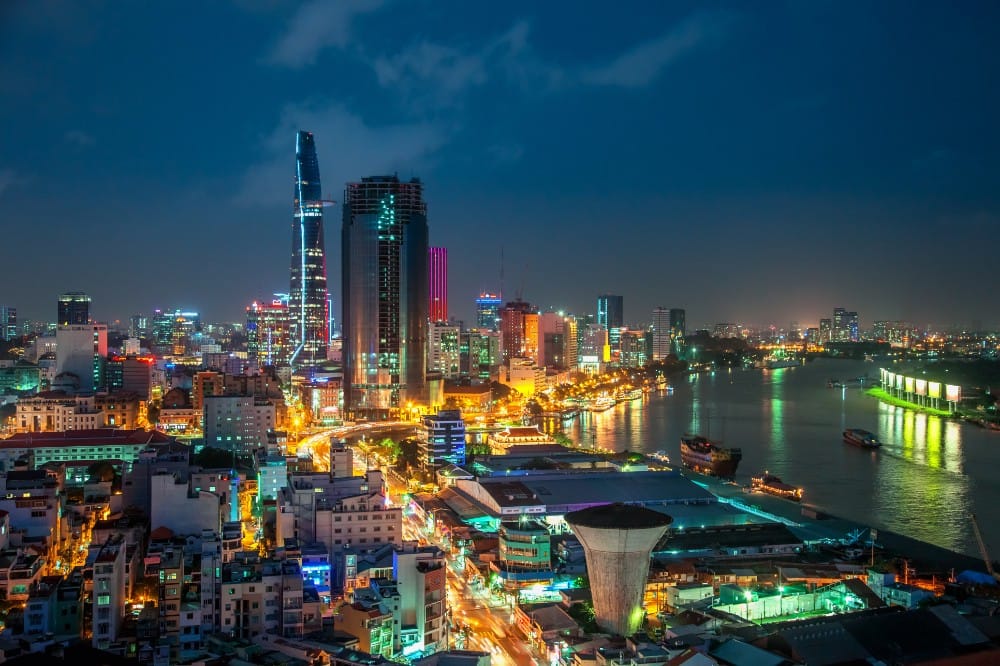 You've spent some time in beautiful Vietnam and said to yourself, "I wish I didn't have to leave." Now, you're on a mission to navigate the Vietnam work visa process and secure yourself a job so you can stick around for a while.
Lucky for you, Vietnam (and East Asia, in general) has a growing economy filled with lucrative employment opportunities for foreigners and locals alike. Plus, you get to live in gorgeous Vietnam.
But you still face the complicated process of applying for a Vietnam work permit and finding work in Vietnam for foreigners. Here's how to ensure the process goes as smoothly as possible.
What Are the Advantages to Finding Work in Vietnam for Foreigners?
Surely, you already know what you love about this beautiful country: beaches, warm weather, incredible culture, and revolutionary history. But maybe your family isn't so convinced this is a great choice. In that case, here are just a few of the many advantages to securing a work permit in Vietnam and starting your new life.
Lower cost of living
Higher pay with more disposable income – especially compared to expats in other countries
Interesting culture
Low crime rate and low occurrence of natural disasters
A warm yet variable climate – depending where you live
Fascinating ancient and modern history
A growing economy
Updated Vietnam work visa requirements that make it easier to work in Vietnam for foreigners
What Should Foreigners Consider Before Deciding to Work in Vietnam?
75,000 foreigners already work in Vietnam and it's easy to see why. Still, you should keep a few things in mind before you embark on your professional journey to a new hemisphere.
You'll need to find specific jobs in Vietnam for foreigners.
Not all expats need a work permit.
Understand transportation and navigation.
Will you want to live in the urban or rural areas? Each has their own advantages and disadvantages.
Set up a support network so you don't get lonely. Connect with other expats on Reddit or social media.
How will you file your taxes?
Everything You Need to Know About Obtaining a Vietnam Work Visa
If you're ready to start teaching English in Vietnam or looking for work in Vietnam for foreigners, the first thing you need to do is get yourself a work permit in Vietnam. But there's a catch: you often need a job to help you get your work visa. Here's how to figure it out.
How to Apply for Your Vietnam Work Visa
First and foremost, let's figure out if you qualify for an exemption. If you meet the criteria below, you do not need a work permit in Vietnam.
You have a bachelor's degree
You have at least three years of experience in your field
You're transferring within the same company
You run a single-member LLC
You're working less than three months
When in doubt, contact your local consulate either by phone, email, or in person to coordinate the details. If you don't qualify for an exemption, you'll need to take the following steps to secure your work visa.
Apply for your tourist visa first before starting the process of your work permit in Vietnam.
Have your new employer prepare your Vietnam work visa.
Complete a health check that shows you're fit to work.
Provide a criminal history report dating back six months.
Provide documents relating to your education and work history.
Collect information from your employer that shows they're allowed to hire foreigners.
Submit copies of your passport and photos.
Wait 40 days for processing.
Vietnam's Ministry of Labor is the only government body that can provide you with a work permit. Make sure to keep communication open with both your employer and consulate to ensure a smooth transition.
How Long Is a Work Permit for Vietnam Valid?
Your Vietnam work visa is valid for three years. At that point, you'll need to start the application process all over again, should you choose to stay. You could find yourself in legal trouble if you let your work visa lapse.
Work in Vietnam for Foreigners: Understanding the Business Culture
Work in Vietnam for foreigners tends to involve an adjustment period as you become used to the local culture. Here are a few tips to get you started.
Trust is earned. You'll need to prove yourself – often at afterhours bonding functions.
There's a business hierarchy. Older and more well-educated employees are often more respected.
Punctuality is expected.
Take meetings seriously and don't appear bored.
Available Jobs in Vietnam for Foreigners
If your current employer doesn't have an office in Vietnam, you might think you're out of luck when it comes to finding jobs in Vietnam for foreigners. The two best options for securing a Vietnam work visa are teaching in Vietnam or finding NGO jobs in Vietnam. If those don't fit, check out Vietnam Works for possible jobs in Vietnam for foreigners.
English Teaching Jobs in Vietnam for Foreigners
Teaching English in Vietnam is one of the easiest ways to find work in Vietnam for foreigners and land a Vietnam work visa. When you apply for a visa, you'll need to prove that your job could only be completed by a foreigner to ensure that you're not taking a job away from a Vietnamese citizen. In this case, teaching in Vietnam is your best bet.
NGO Jobs in Vietnam for Foreigners
Another option is to seek NGO jobs in Vietnam for foreigners. Aside from applying for English teaching jobs in Vietnam, this is one of the easiest ways to find employment in the country. Consider your skillset and look for jobs at NGOs operating in Vietnam that fit your background. There might be more than you think.
Apply for Your Tourist Visa and Get Started Today
If you plan on entering Vietnam before applying for your work visa, you'll need to secure a tourist visa first. Vietnam Visa makes the process easy: just apply online, wait for approval, and get your visa on arrival. Get started today!