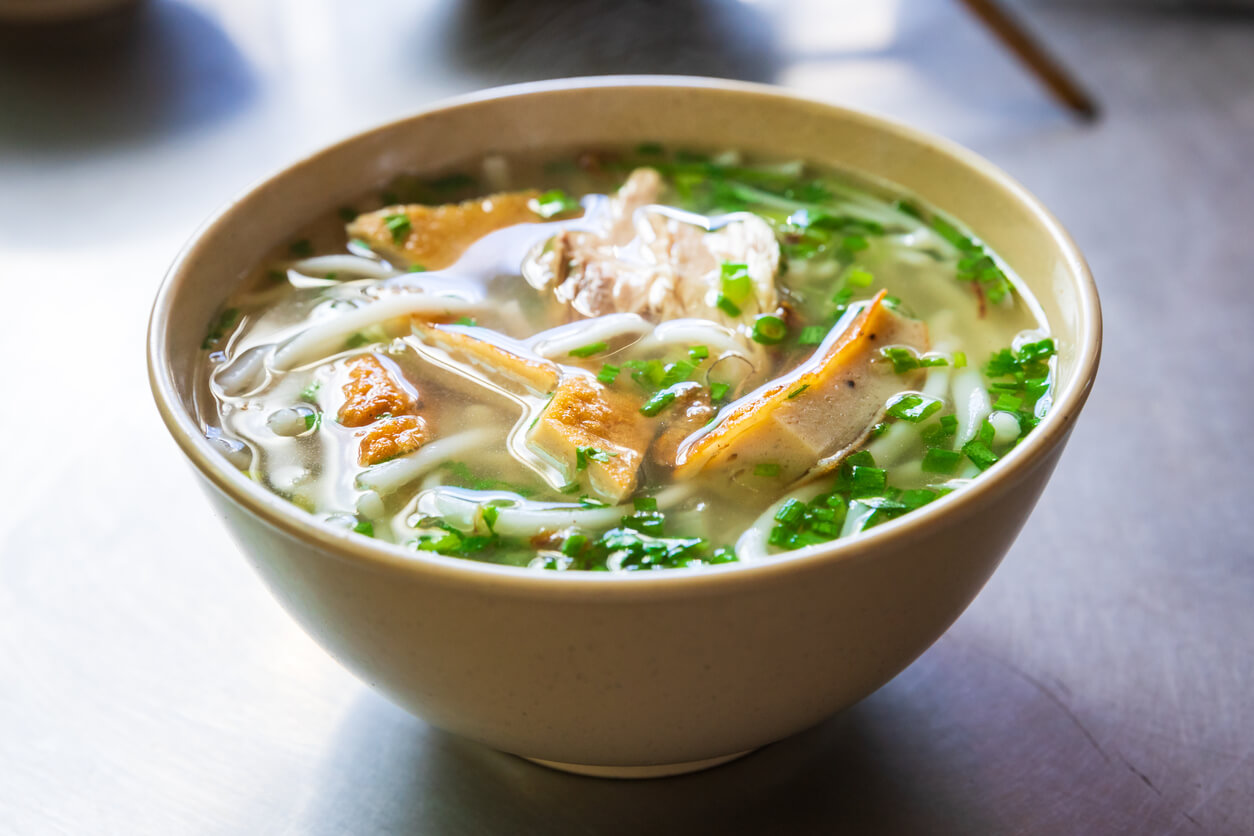 Nestled in the Mekong Delta region of Vietnam, An Giang is famed for its lush paddy fields and floating villages. This agricultural province in the southwest of Vietnam, along the Cambodian border, boasts an array of flavorsome dishes that are sure to thrill the palates of food lovers. From exploring the vibrant local markets to dining in hidden local eateries, An Giang provides a culinary adventure that's as enriching as its cultural heritage.
Along with trying some of the sumptuous An Giang food, visitors can immerse themselves in nature by exploring the Tra Su Forest and marveling at the Sam Mountain range.
About An Giang
Nestled in the Mekong Delta, An Giang is famous for its rice production and numerous fruit orchards. As the home of the Cham and Khmer ethnic minorities, it offers a diverse cultural experience. An Giang is a bustling province with a population exceeding 2.2 million people, and its capital, Long Xuyen, is a vibrant city full of life.
Historically, An Giang was part of the Kingdom of Funan until it became a part of the Khmer Empire and later was annexed by Vietnam. Today, the province is known for its traditional floating markets, beautiful landscapes, and, of course, its irresistible food.
Best Types of Food in An Giang
From street food stalls to high-end restaurants, An Giang offers a variety of culinary experiences. Make sure to try the following local favorites when you visit.
Chao Suon
Chao Suon, or pork rib porridge, is a hearty and delicious dish often eaten for breakfast in An Giang. The porridge is slow-cooked to perfection with tender pork ribs, creating a rich, flavorful broth that is both comforting and satisfying.
Bun Ca
Bun Ca, or fish noodle soup, is a local staple in An Giang, especially due to the province's abundant freshwater fish. The soup features delicate rice noodles, fresh herbs, and succulent chunks of fish in a light, aromatic broth.
Banh Bo Thot Not
This unique dish is a type of steamed rice cake made with toddy palm sugar, lending it a distinctive sweetness. Banh Bo Thot Not is soft, fluffy, and slightly sweet, making it a popular snack or dessert among the locals.
Banh Pia
One of An Giang's signature dishes, Banh Pia is a type of mooncake filled with durian and mung bean paste. This flavorful pastry is a must-try for any food lover and perfectly encapsulates An Giang's unique blend of cultural influences.
Cooking Classes in An Giang
After you've tasted the best dishes An Giang has to offer, why not learn to cook them yourself? The following cooking classes will provide you with the skills to recreate your favorite An Giang dishes back home.
Mekong Delta Cooking Class
The Mekong Delta Cooking Class is an excellent way to learn about the region's culinary culture. Led by local chefs, you'll get hands-on experience preparing some of the best An Giang dishes. The class also includes visits to a local market and a traditional herb garden.
Victoria Chau Doc Hotel
For an unforgettable culinary experience, inquire about cooking classes at Victoria Chau Doc Hotel. Guests can learn to prepare traditional An Giang dishes under the guidance of the hotel's chefs. What's more, the hotel also arranges food-related excursions, allowing guests to get a deeper insight into the province's culinary culture.
Explore the Culinary Wonders of An Giang
An Giang offers an extraordinary foodie experience, with diverse flavors that reflect the region's rich cultural heritage. From eating savory local dishes to learning how to prepare them in a cooking class, there are countless ways to enjoy An Giang's food culture during your visit.
Before embarking on your food adventure in An Giang, make sure to apply for your Vietnam visa. This will ensure a smooth entry and allow you to fully focus on the culinary treasures and cultural experiences that await in An Giang.