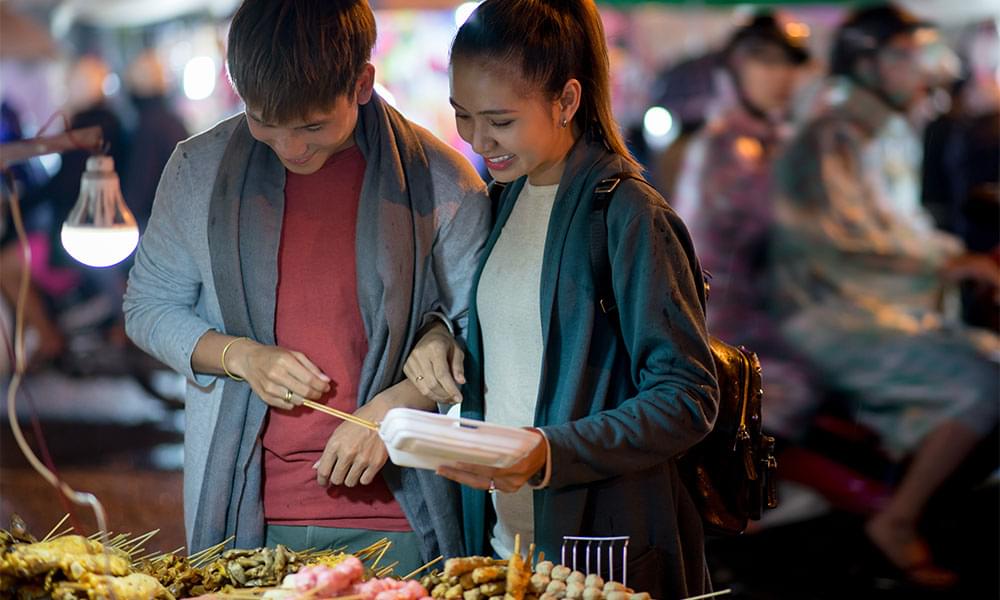 Once you have visited Vietnam, you will never forget the abundance of the delicious street food. It can seem like there is a vendor on every corner in every major city. With friendly food vendors lining the streets, all competing for your attention, picking just one can be a challenge! Even your walk down the street can be a culinary experience as you take in the aromas of breads, meats, seafood, sauces, noodles, rice, and spices.
When you are ready to grab something to eat, here are a few main points to remember about Vietnamese street food:
The Vietnamese use a lot of fish sauce.
The food is a study in contrasts: very hot or cold and very salty or sweet.
It is important to get fresh ingredients and freshly made dishes.
You can get noodles and rice with every meal, morning, noon, and night.
Salads are based on various fruits instead of lettuce.
Some vendors serve fresh French baguettes, and cities in the north tend toward meals influenced by their Chinese neighbors.
You can get an abundance of food even when you are on a budget by going to street vendors. Street food prices in Vietnam are much lower than in traditional restaurants. Street vendors serve dishes for as low as about $1.44 AUD, $1.32 CAD, $19.19 MXN, or $1 USD. Many Western countries charge five to ten times that amount for the same dish!
It is important to be aware of the typical prices of street food in Vietnam and then ask, "How much?" before you buy anything. Negotiate, make sure you understand how much you are paying, and decide if you are comfortable with the price before you count out your đồng.
What Are the Classic Dishes to Try?
These classic dishes are the ones your friends will ask you about, so try them all and become the street food expert! By learning the cost of these street food staples you gain a basic understanding of the cost of other street food, giving you a solid base to start practicing your haggling skills for when you branch out to other dishes.
Bánh mì
Influenced by French Colonialism, the Vietnamese bánh mì is a take on the classic sandwich. A versitile, flavorful, on-the-go, hand-held meal.
Description: This is a type of baguette that can be filled with cheese, sliced pork or other meats, pickles, herbs, and vegetables. Bánh mì can also be made vegetarian using tofu. Another option is a baguette filled with fries, egg, and soy sauce.
Cost:
Đồng: 20,000–30,000
Australian Dollar: $1.23–$1.85
Canadian Dollar: $1.13–$1.70
Mexican Peso: $16.49–$24.73
United States Dollar: $0.86–$1.29
Cà phê sữa đá
Coffee was introduced by the French to Vietnam in the mid-1800's. Let us just say, it is hard to improve upon the perfection that is a good cup of coffee, but Vietnam has done just that. A decadent treat, Vietnamese Coffee varies by region. So, anywhere you go, you are in for a new treat.
Description: The most common way of having coffee in Vietnam is getting it poured over ice, highly sweetened, and mixed with plenty of condensed milk.
If you are trying to stay away from caffeine or are just not a coffee person, you can also get a fruit juice or tea instead.
Cost:
Đồng: 10,000
Australian Dollar: $0.62
Canadian Dollar: $0.57
Mexican Peso: $8.24
United States Dollar: $0.43
Chả giò
Chả giò, also known as fried spring rolls, has become an appetizer staple for Western restaurants. Just like the bánh mì, chả giò is extremely versatile and does not abide by a set list of ingredients. Each vendor's will be as unique as the person that makes them.
Description: This is a type of spring roll that is deep fried, crunchy on the outside, and best enjoyed dipped in a Vietnamese sauce. They are often filled with either pork or shrimp and shredded vegetables.
Cost (per roll):
Đồng: 5,000
Australian Dollar: $0.31
Canadian Dollar: $0.28
Mexican Peso: $4.12
United States Dollar: $0.21
Fried eggs and potatoes
Always a classic, fried eggs and potatoes can be served in a multitude of ways including on Bánh mì.
Description: Great for a quick meal, this plate consists of a fried egg and fried potato slices served with rice, vegetables, chili, and fish sauce. It's filling and quick for vendors to make.
Cost:
Đồng: 5,000–30,000
Australian Dollar: $0.31–$1.85
Canadian Dollar: $0.28–$1.85
Mexican Peso: $4.12–$24.73
United States Dollar: $0.21–$1.29
Phở
Though you would think phở would fall into the classic category, it is a relative newcomer on the street food scene. Phở originated in northern Vietnam as recently as the beginning of the 20th Century. Its popularity has since spread all around the globe.
Description: Pho can be eaten for any meal of the day. It includes a broth with thinly sliced meat, noodles, vegetables, herbs, and fish sauce in a warm, filling bowl. You can choose between different types of meat and vegetables.
Cost:
Đồng: 20,000–40,000
Australian Dollar: $1.23–$2.47
Canadian Dollar: $1.13–$2.27
Mexican Peso: $16.49–$32.97
United States Dollar: $0.86–$1.72
Start Here and Continue Exploring
Vietnam Street food is a great place to start. You get a feel for the local flare, a taste for the cuisine, a chance to practice your haggling skills, all with minimal interruption to your day. Enjoy your meal while enjoying the sites. The meals will fill you up and give you a good comparison for the prices of other dishes. Even if you end up sticking to these classics, their ability to be customized gives you a new dish each time.
Vietnam Visa makes it easy for you to get your Vietnam travel visa. If you are getting ready for a trip to Vietnam, apply for your travel visa online.