Vietnam is undeniably a highly desirable travel destination because it has something to offer everyone. Do you want to soak in its thousand years of history? How about indulging in its diverse culture? If you love mouth-watering street foods and all-night parties, you will also find them here.
With international travel coming back to life once again, the demands for exotic and wild travel destinations are also on the rise. Years spent seemingly hunkered down at home seem to have stirred up the urge to experience far-flung places. The forecast for 2022 is that the number of people who will be traveling this year will surpass even the pre-pandemic levels.
Top Bucket List Destinations in Vietnam
The vast number and variety of travel destinations that Vietnam has to offer can be quite overwhelming. To make the most out of your trip to this country, take a look at the list of best Vietnam travel destinations for 2022 below. Even if you cannot check off all these items on the list on your first visit, you will have a head start for your next.
---

1. Ha Long Bay
Ha Long is a UNESCO World Heritage site. The bay offers natural yet fantastical beauty where myths were born. The word 'ha' means 'descend' in Vietnamese, while 'long' means 'dragon.' As you might have guessed already, there have been old legends that this place is where dragons descended.
Myth aside, you can get to have a unique experiential journey in Ha Long Bay as you explore the limestone mountains and islands scattered across. There are also floating villages and pearl farms to explore. And if you would like to swim or kayak on the bay, you can freely do so.
---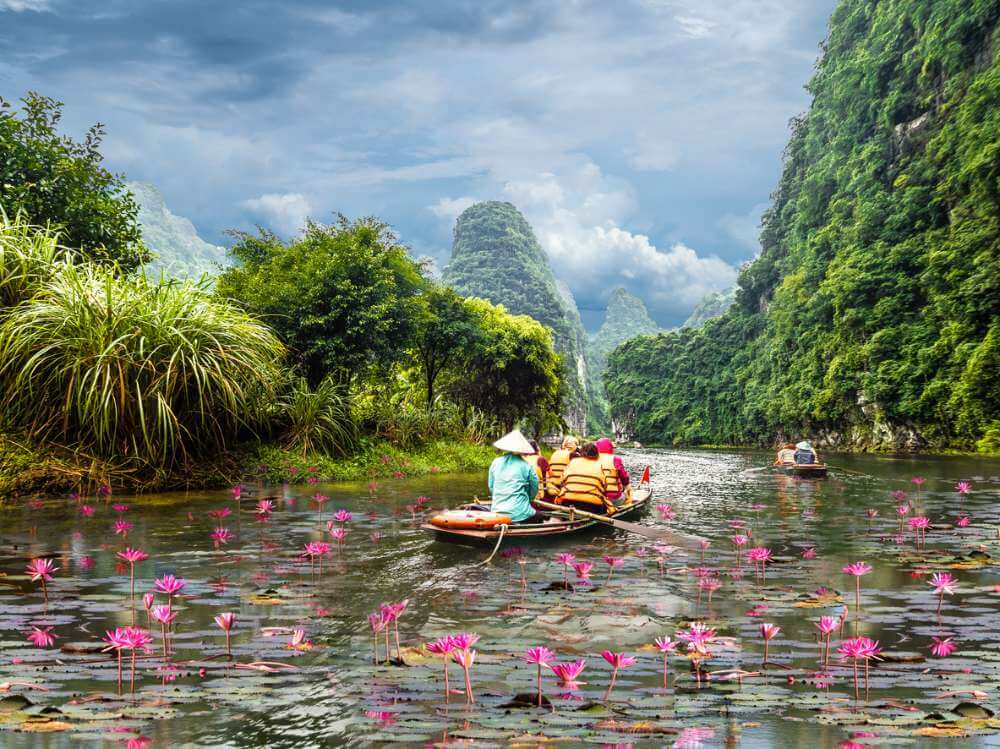 2. Trang An
If you are not into aquatic adventures, you can still have a similar Ha Long Bay experience – on land. Trang An is an eco-tourism complex dubbed "Ha Long Bay on land" and is one of the major attractions in North Vietnam.
You will still see limestone mountains, but they sit atop grassland and rice fields instead of the bay. The best way to experience the enthralling beauty of Trang An is with a scenic boat ride along the rivers, paddled by locals.
---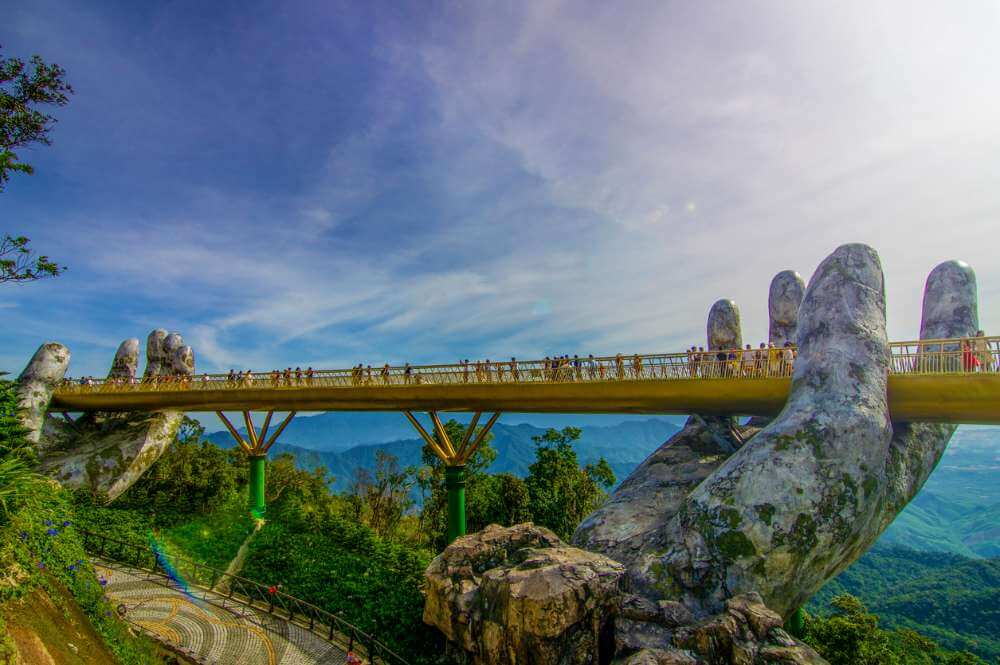 3. Golden Bridge
The Golden Bridge is an engineering marvel in itself – a long suspended bridge held by a sculpture of two giant stone hands. The scene of walking along this bridge inspired most people to call it "a golden thread held up by a god's hands."
But the Golden Bridge is just the tool to experience the true natural beauty of the land. Located within Ba Na Hills, the bridge overlooks a scenic view of the surrounding mountains as far as the coast where the sea meets the land. Indeed, Vietnam's Golden Bridge is an iconic place where epic photos are born.
---
4. Phong Nha Ke Bang National Park
Phong Nha Ke Bang National Park is the hidden gem of Vietnam. If you have been to Ha Long Bay and felt extreme astonishment at its natural beauty, you have only experienced the icing on the cake. The 'cake' itself is at Phong Nha, where you will find an abundance of lush tropical jungles, underground rivers, and limestone formations. There are also over 100 kilometers of caves ready for you to explore.
Within this national park is one of the world's majestic stone formations – the Paradise Cave. This longest dry cave in Asia is nothing but a dry experience. In fact, its exalted and mystical beauty has earned it the moniker "Underground Palace." Floodlights illuminating the stalactites and stalagmites inside the cave make you feel like you are in an ancient palace.
---

5. Phu Quoc Island
This paradise island is one of the best destinations for beach lovers. Whether you want to have a serene experience or mingle with the crowd by the beach, you will find a stretch of shoreline to match your preference.
Located in the southern part of Vietnam, Phu Quoc Island is the country's largest island. As if the white sandy beaches and lush green forests are not enough, Buddhist temples and traditional fishing villages are also part of the place. An exotic beach destination cannot get better than this.
---
Start Your Journey with a Vietnam Visa
With your bucket list for this year in order, it is time to make it happen – and it starts with a no-hassle Vietnam visa application. With Vietnam Visa on Arrival, you can process your application online, from filling up the form to receiving approval via email.
Ready to start checking off your Vietnam bucket list? Apply for your Vietnam Visa online today.