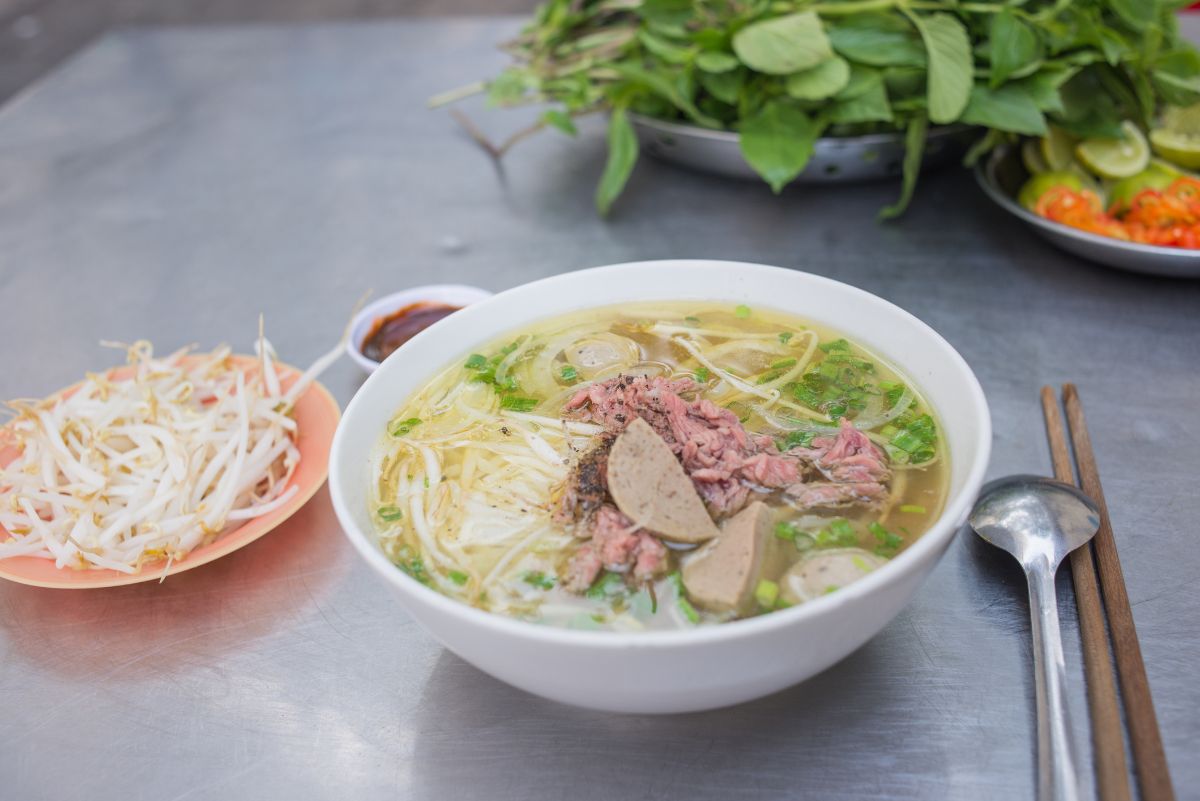 As the largest city in Vietnam, Ho Chi Minh City is known for its rich history and diverse cuisine. The city's food culture draws in visitors from around the world, eager to explore its bustling markets and dine at the countless eateries offering mouthwatering dishes. Once you've indulged in all the Ho Chi Minh City food you can handle, don't miss the opportunity to visit iconic landmarks like the War Remnants Museum and the Notre Dame Cathedral Basilica of Saigon.
About Ho Chi Minh City
Once the capital of South Vietnam, Ho Chi Minh City is now the economic and cultural hub of the country. With over 8.9 million residents, the city is a melting pot of different cultures and influences.
This becomes even more evident in its unique variety of foods. Formerly known as Saigon, the area was renamed Ho Chi Minh City in 1976.
The city's rich history is showcased in its French colonial architecture, historic sites, and museums. However, the food in Ho Chi Minh City is undoubtedly one of its main attractions, as the city offers a diverse array of flavors and dishes that cater to every palate.
Best Types of Food in Ho Chi Minh City
Ho Chi Minh City's food scene is a delightful blend of traditional Vietnamese cuisine and international influences. From street food to upscale restaurants, there's something for everyone. Here are some dishes you must try when visiting the city.
Pho
Pho is arguably Vietnam's most famous dish, and Ho Chi Minh City is home to some of the country's best pho restaurants. This delicious noodle soup is typically made with beef or chicken broth, rice noodles, and a variety of herbs and spices. Be sure to sample this iconic dish at local eateries and street food stalls.
Banh Mi
Another popular Vietnamese dish is Banh Mi, a sandwich made with a French-style baguette, typically filled with grilled meat, pickled vegetables, pâté, and fresh herbs. Ho Chi Minh City is renowned for its Banh Mi, with countless vendors offering their unique take on this classic dish.
Com Tam
Com Tam, or broken rice, is a staple in Ho Chi Minh City's cuisine. The dish is made from fractured rice grains and is usually served with grilled pork, a fried egg, pickled vegetables, and fish sauce. This hearty meal can be found at local restaurants and street food vendors throughout the city.
Banh Xeo
These savory Vietnamese pancakes, known as Banh Xeo, are a must-try in Ho Chi Minh City. Made from rice flour, turmeric, and coconut milk, the pancakes are filled with shrimp, pork, and bean sprouts, then folded and fried to crispy perfection.
Cooking Classes in Ho Chi Minh City
After experiencing the city's diverse and flavorful cuisine, consider taking a cooking class to learn how to recreate your favorite Ho Chi Minh City dishes at home. Here are some recommended cooking classes in the city.
Saigon Cooking Class
Saigon Cooking Class, led by experienced chefs, offers hands-on lessons in preparing traditional Vietnamese dishes. Participants visit local markets to source fresh ingredients before learning to prepare a range of dishes, including the best food in Ho Chi Minh City.
GRAIN by Luke Nguyen
Celebrity chef Luke Nguyen's cooking school, GRAIN, provides an immersive culinary experience for visitors. The school offers a variety of classes, teaching participants how to create mouthwatering dishes inspired by Ho Chi Minh City's diverse food culture.
Savor the Street Food Scene
Ho Chi Minh City's food culture is at its best within the local street food scene. Its sidewalks are lined with food vendors offering an array of dishes, from skewers of grilled meat to steaming bowls of noodle soup.
Visit the bustling markets, such as Ben Thanh Market and Binh Tay Market, to find even more local delicacies within the city's vibrant atmosphere.
Food Tours in Ho Chi Minh City
For a more guided experience, consider joining a food tour to explore the city's culinary offerings. Food tours take you through Ho Chi Minh City's neighborhoods and introduce you to the best eateries and street food vendors.
With options ranging from walking tours to motorbike excursions, food tours are a fantastic way to discover the city's diverse and delicious cuisine.
Don't Miss Out on Ho Chi Minh City's Culinary Delights
Ho Chi Minh City's food culture is a major draw for visitors, offering a unique and unforgettable dining experience. From indulging in the city's diverse foods to learning how to prepare your favorite dishes in a cooking class, there's always something new and delicious to discover.
Add Ho Chi Minh City to your travel bucket list and embark on a foodie adventure that will leave you craving more.
Ready to experience the incredible foods in Ho Chi Minh City, Vietnam? Make sure to get your Vietnam visa before you go.