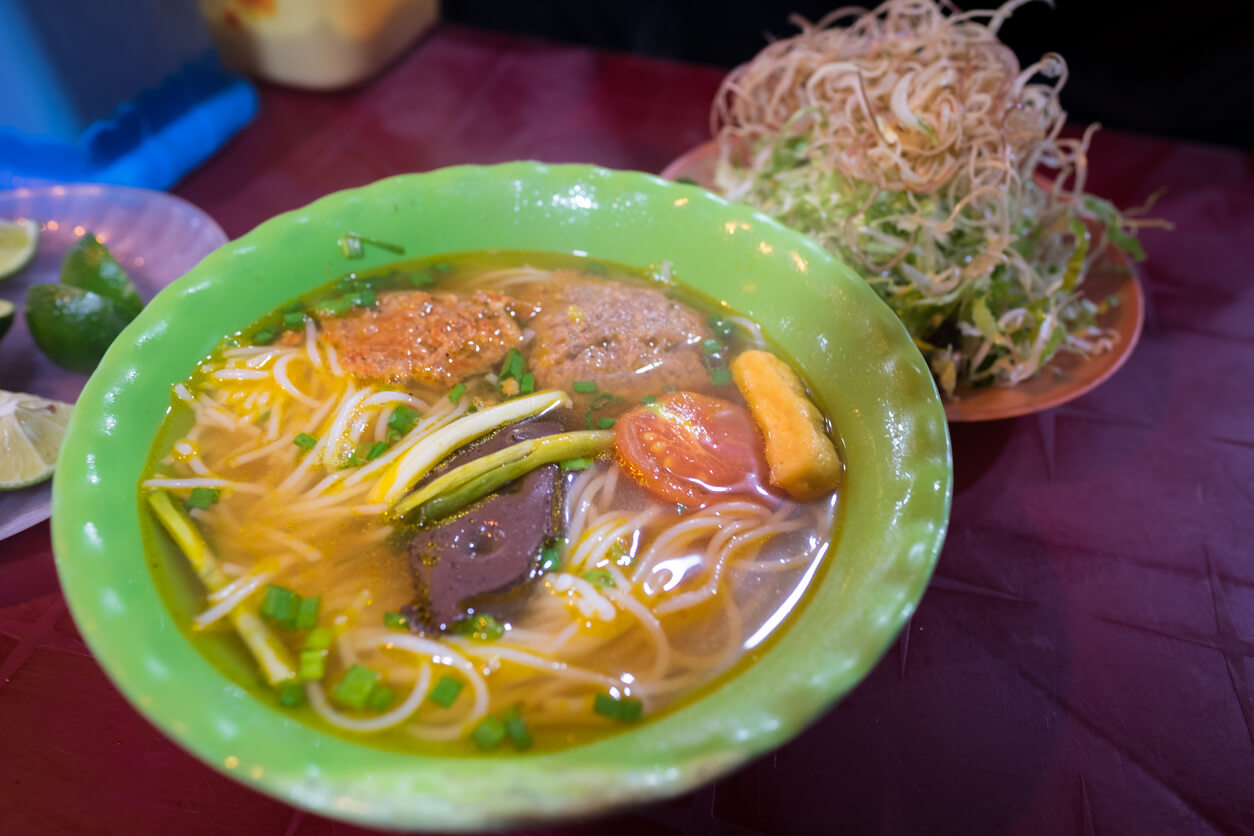 Long ago, Hue was the capital of Dang Trang. Later on, it was the old Imperial City of the Nguyễn dynasty. From the Huế Monuments to the Forbidden Purple City, there are plenty of places to explore within Hue.
While Hue is known for its imperial citadel, pagodas, and royal mausoleums, Hue food is also an important part of any visit to the area. If you love great architecture and culinary excellence, take time to enjoy some of the best food in Hue.
About Hue
As the Imperial City, Hue became a center of Vietnamese culture. Today, it is a major cultural destination for tourists in Vietnam. Other than having historic mausoleums and pagodas, the food in Hue has also achieved a world-class reputation.
Each year, more than 4 million visitors come to Hue to tour the city's architecture, restaurants, and cultural events. While some landmarks were left in ruins following the Vietnam War, many buildings have now been restored to their former glory.
Best Types of Food in Hue
If you want to discover some of Vietnam's best cuisine, you need to check out Hue food. From street food to fine dining, this city has a wealth of delicious fare.
Bun Bo Hue
In a city known for its amazing dining options, Bun Bo Hue is arguably the most famous food in Hue. It is similar to Vietnamese noodle soup (Pho), but it is spicier. Each bowl includes crab balls, sliced beef, vermicelli noodles, lemongrass, and a spicy broth.
Banh Khoai
Also known as the Hue pancake, Banh Khoai is a thin, small pancake that is typically dipped in Hue peanut sauce. Similar to Ban Xeo, these pancakes are generally stuffed with pork, shrimp, beansprouts, and pork.
New Lui
New Lui is a Hue food that consists of lemongrass skewers. Each one is made out of ground pork and formed into a sausage shape. Then, the pork is skewered and grilled on stalks of lemongrass.
Cooking Classes in Hue
After discovering all of the amazing Hue street food the city has to offer, you'll most likely want to bring these dishes home. The following cooking classes are a great way to bring Hue's classic cuisine home.
Hue Cooking Class
If you want to learn all about food to eat in Hue, you can start with the Hue Cooking Class. You can choose to take a group class or individual lessons. For a more in-depth view of the area, you can also sign up for one of the organization's popular food tours.
Villa Hue Cooking Class
While you don't have to be a guest at the Villa Hue to enjoy cooking classes there, it is a side benefit of staying there for a few nights. Villa Hue cooking classes typically cover three different traditional dishes and take about 2.5 hours to complete. Plus, you can get the recipes emailed to you after the course is finished.
I Love Hue Tour
If you feel passionate about food in Hue, I Love Hue Tour is the place to go. You can get a vegetarian food tour or check out the area's street food. In addition, I Love Hue Tour has a countryside tour where you can see local villages and smaller markets.
Don't Miss Out on Delicious Hue Food
From high-end dining to street food, there are plenty of Hue food dishes and restaurants you should try when you are in the area. Once you fall in love with the food in Hue, you can also take a cooking class and learn how to recreate your favorite dishes. Through food, you can develop a deeper connection and understanding of Hue's ancient culture and traditions.
Vietnam Visa
Ready to book your trip to Hue and discover the food scene? Make sure to apply for your Vietnam Visa before you go.