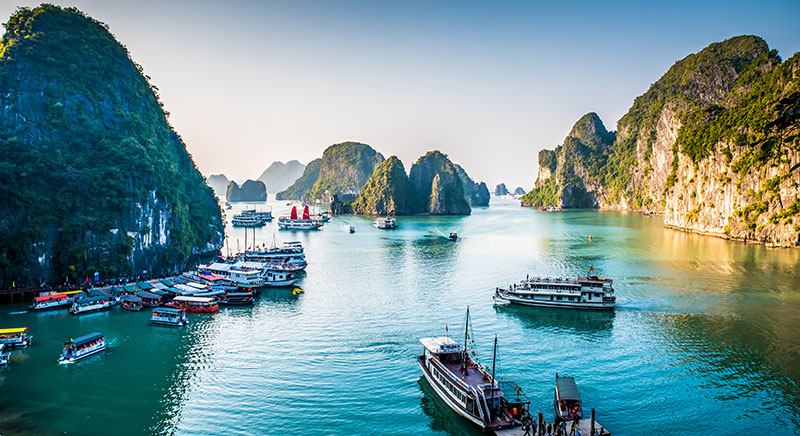 More than 1600 limestone islands dot the majestic Ha Long Bay. These iconic limestone spires jut up from the bay in dramatic fashion and are just one of the reasons why travelers find this little corner of Vietnam so enchanting. It is also why UNESCO has named the area a World Heritage Site.
Of course, this kind of beauty attracts lots of travelers. But now might be the perfect time to plan your post-pandemic trip to Vietnam. Crowds will be much lighter than during "normal" times, especially on the famed bay cruises. Prices are amazingly low right now, with many hotels about 50 percent below peak rates. Here's how far $100 in Halong Bay can go.
Halong Bay Hotels
Because it is a major tourist destination, Halong Bay has a huge variety of hostels, homestays and hotels to choose from:
Hostel: Halo Bay Homestay is located in an old fisherman's home and is run by four generations of the same family. Dorm accommodations start at $5 per night and individual rooms are available starting at about $20 per night.
Mid-Range: The Deja Vu House offers clean, modern decor in a French-colonial style building close to tourist attractions and convenient to just about everything in the city. Room rates right now are about $16.
High-End: In normal times, the Wyndham Legend Halong Hotel will run about $100 a night. The modern skyscraper is located on Bai Chay beach near the Sun World Halong complex, markets, waterfront bars and more.
Things to do in Halong Bay
Tours in Halong Bay are very popular, which limits your budget options considerably. However, most hotels will be able to connect you with locals in ways that websites cannot.
Cruise Halong Bay
Your $100 won't go very far on a Halong Bay Cruise, unfortunately. Most day tours are more than $100 but they generally offer a good array of amenities. This Halong Bay tour, at $114, is seven hours long, offers transport to the dock in a limousine, has a gourmet lunch and a kayaking excursion. But for just $38, this tour has lunch and is just over 5 hours long. It also offers a kayak excursion to Sung Sot cave. Budget tours can be found for as little as $25.
Park it
Cat Ba National Park is on the largest island in Halong Bay and has great hiking and wildlife watching. It also has lovely beaches. A day-long tour of the park with transportation, a guide, and lunch is about $25.
Rock Climbing
Imagine doing some amazing sport climbing routes without ropes. Many routes simply rise up over the sea, meaning if you bail you simply end up in the water. They call it deepwater soloing (DWS) here. Tours start at $45.
Sun World Park
This massive complex has one of the largest ferris wheels in the world as well as a water park, rides, cable car and Mystic Mountain. Access to everything the park has to offer is about $25, but individual tickets can be purchased for less.
Cai Bau Pagoda
This beautiful pagoda looks out over the sea and is a spiritual place. There is no cost to get in, but you will likely need to get a motorbike (or taxi) to get there. Motorbike rentals are $7 a day.
Halong Bay Food
It's no surprise that Halong cuisine relies heavily on seafood. Here it is plentiful and inexpensive. With dishes starting at $1 or less, you can eat like royalty. If you're frugal, you can get by on less than $8 a day, but expect $15-20 per day if you expect mid-range food and service, notes BestPriceTravel.com. Here are some of the local specialties:
Halong Squid Cake – fresh-caught squid is tenderized then cooked and served with rice and fish sauce. A serving is only about $1.
Austriella corrugata – This clam is common in Halong Bay and can be found in a number of different dishes, from a basic bowl of steamed clams to a clam and fried noodle dish. They even make wine out of the clams! Expect to pay about $10 for a generous portion.
Sá sùng – This is a delicacy in Halong Bay. This marine worm is slow growing, but delicious. And it's crazy expensive—a kilogram can be $100-$200—so if you're on a budget this might be one dish to skip.
Street food – You may have to sit in plastic chairs (or even stand) along the street, but it's worth the sacrifice when you get an amazing meal for a fraction of what you'll pay in a sit-down restaurant. A beer and a heaping plate of seafood can be found for $2-$5.
Breaking down $100 in Halong Bay (mid-range 2 days)
Lodging 2 nights: $32
Food 2 days: $36
Bay cruise: $25
Motorbike rental: $7